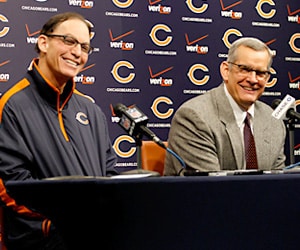 The Chicago Bears came into the 2013 season with a new idenity  and a lot of question marks; while some of those questions have been answered ,some still need to be adressed.
Bears head coach Marc Trestman and general manager Phil Emery held a press confrence on Thursday to address the media after the season ending loss last Sunday to the Green Bay Packers 33- 28 at Soldier Field.
The Bears wasted no time announcing the contract extensions of quarterback Jay Cutler,  cornerback Tim Jennings, and guard Matt Slauson . They hinted at what prevented them from winning the NFC North this season. The Bears defense was the biggest issue as apparent by Emerys press confrence
"We were at least one defensive lineman short at the tackle position going into the season. For that fourth tackle, we felt like we had a tackle signed in Sedrick Ellis. That didn't work out. That's on me.
"The fact that we couldn't replace Sedrick, that's on me. We didn't have enough pass rush from the outside or the inside. We needed one more. (Rookie) David Bass came in and did a very good job against the run, but he's a young rusher. We needed one more there." Emery said Thursday.
On a positive note, Emery also discussed the improvement of Jay Cutler and talked about the teams descion to go foward with him as the starting quarterback.
"We're pleased; it works for both parties," Emery said of the deal. "lt rewards Jay and it enables us to continue to build a championship team."
As we look foward to next season, here is my final grade for the 2013 Chicago Bears
OFFENSE- B+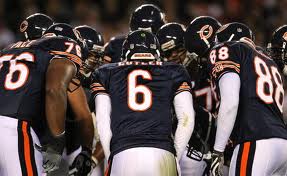 The Bears took on a new idenity this season with first year coach Marc Trestman bringing a new look offense to a team that has relied on defense to win for the last two decades.
Bears quarterback Jay Cutler suffered through an injury riddled campaign, but still put up solid numbers throwing for 2,621 yards and 19 touchdowns in only 11 games. Cutler did throw 12 interceptions which is high for only 11 games, but his descion making definetly improved ,and he has one of the best arms in the NFL.
When Cutler went down, Josh McCown filled in and suprised many people by leading the Bears back into the playoff race with a win against the  Green Bay Packers  on Monday Night Football. McCown earned the respect of his teamates and caused many arguments between Bears fans over who should be the starting quarterback. All McCown did in Cutlers absence was throw for 1,829 yards and 13 touchdowns with a 109.0 qb rating,
Both quarterbacks played well  and benefited from having arguably the best recieving core in the NFL in Brandon Marshall and Alshon Jeffrey, as well as key free agent addition Martellus Bennett.
Marshall and Jeffrey both had 1,000 yard recieving seasons and helped give the bears the passing game they have been trying to find for years. Marshall once again caught 100 balls and had 12 touchdowns, remaining one of the most consistent players in the league.The emergence of Jeffrey helped Cutler by giving him another target. Jeffrey made a name for himself with his unbelivable acrobatic catches this year and should only get better next season. Earl Bennet added 32 grabs and four touchdowns to boost the Bears new passing attack.
Martellus Bennet gave the Bears a pass catching threat at tight end ( 65 catches) but was used more to block late in the season, which affected his recieving numbers. However, he still finished with career highs in catches and yards. He will continue to be a solid player for the Bears in the future as they hope to use him in the red zone more next season.
Matt Forte had the privelage of running behind a much improved offensive line and had another solid season. Forte finished with 1,339 yards and added 74 receptions. Forte seems to be a great fit in Trestmans system for the next few seasons.
As mentioned, the Bears offensive line was much improved and was a big reason for the offenses sucess.  Left tackle, which was a huge issue for Chicago in the past,  was much improved with the addition of Jermon Bushrod, who had a very good season solidifying the blind side for Jay Cutler and Josh McCown. Rookie Kyle Long silenced most of the critics, who questioned the Bears for taking him with their first pick, by bringing a no nonsense attitude to the team. The other rookie lineman Jordan Mills wasn't taken until the 5th round but was still outstanding in pass and run blocking. Center Roberto Garza had a bounce back year and provided leadership and Matt Slauson did a great job locking down the left side of the line.
For the first time, in what seems like forever, the Bears are stacked on offense, the defense on the other hand…..
Harsh I know, however injuries caused this team to turn to guys, who in my honest opinon, should be on someone elses practice squad or at home. The Bears allowed a franchise-record 6,313 total yards and looked nothing like the great Bears defenses of the past.
The Bears could possibly switch to a 3-4 defense in the future to better fit  Shea McClellin, the team's top draft pick in 2012 who again looked out of place at defensive end in 2013. While it may be too early to call bust, Shea looked lost again this season .He had one mentionable game,the game at Green Bay where he recorded a career high 3 sacks and won the NFC defensive player of the week.
McClellin was not the only under achiever on the Bears defensive line. After the loss of defensive tackle Henry Melton, September 22,the Bears took a chance on Jeremiah Ratliff, who played decent considering he was coming off an injury. Julius Peppers had his worst statistical season in over 5 years and I would be suprised if he was still on the team next year.  Corey Wooton played through injuries, so it was hard to see what he could really do when healthy.
Injuries didn't only hit the defensive line,  the Bears linebackers also caught the injury bug. Already with the loss of former middle linebacker and future hall of famer, Brian Urlacher, the Bears had to find a new signal caller. When both DJ Williams and Lance Briggs went down, they looked lost and out of place.
Rookie Jon Bostic stuggled and couldnt adjust to the speed of the NFL game at times and it is clear he is not ready to start right now. Bostic will need to improve in the offseason, he finished with 56 tackles and an interception.
James Anderson filled his role decenly, although he didn't jump off the screen or really do anything that really impressed you. Anderson recorded 102 tackles, but when your defense gives up that many yards, obviously you have something to do with it at times.
With the return of Briggs and the 14th pick in the upcoming NFL draft, the bears do have an opppurtunity to draft another linebacker or pass rusher to help get pressure on the quarterback, something that will be needed if the Bears ever hope to stop Aaron Rodgers and beat the Packers. With Briggs back healthy next year and Bostic another year older and wiser the Bears can only improve.
The Secondary was atrocious and possibly the worst I have ever seen. The loss of Charles Tillman to injury hurt the Bears who not only lost a great player but also a great leader. Before the injury to Tillman ,he looked like age was catching up to him and his time might be up with the Bears. Tillman did have three interceptions but he was getting burned by recivers.  AJ Green torched him week 1.
Tim Jennings was a lone bright spot for the secondary, which explains why he got a new deal right away Thursday. A season after leading the NFL in interceptions, Jennings picked off four passes returning two for touchdowns.
The safety position was the worst in Chicago Bears history; no matter who you ask, they will agree. Chris Conte and Major Wright combined for 160 tackles but only because the run defense couldn't stop anyone. They combined for 5 interceptions and were burned on key plays throughout the year, including the final defensive play of the year, a 48 yard touchdown pass from Aaron Rodgers to Randall Cobb to beat the Bears.
The Bears will have to look to the draft to add a safety I would figure, but as said earlier they also need to get a better pass rush established. I always say the teams that win in January are the teams who have a great offensive line and a great pass rush ; the Bears definetly do not have the pass rush and that is why they are sitting at home.
It was another solid season for Robbie Gould which included a career high 58 yard field goal, but also included a career low when he missed the game winning kick against Minnesota on second down in overtime.
Punter Adam Podlesh is up and down but when hes down he kills the Bears by giving up poor field position. I think they need to look somewere else, especially after the game in Philadelphia when his terrible punt started the whole mess that became.
Devin Hester had a few nice moments but it was clear we have seen the last of the " superman" he once was. I would be suprised if he was in a Chicago Bears uniform next year, i see him somewere else, possibly reunting in Tampa Bay with former coach Lovie Smith
Podcast: Play in new window | Download