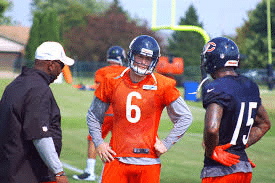 There has been a lot of controversy surrounding the extra-curricular activities that took place after the Bears 27 – 14 loss to the Dolphins last week at Soldier Field. Numerous sources have sited yelling coming from the Bears locker room, believed to be from WR Brandon Marshall. His target? Marshall's best friend and quarterback, Jay Cutler.
Who cares?
You? Well don't, because it is a waste of time and there are way more problems with the Bears on the field than off.
This "high" powered Bears offense is ranked 18th in the league at 22.4 PPG. With teams like the Cardinals, Dolphins and Panthers averaging more points than the Bears, Marc Trestman has more on his plate than "who said what" after a terrible loss. The Bears scored 30+ points six times in 2013, but have not cracked 30 in seven games this year.
"There are a lot of guys this means a lot to. We're 3-4. We need to play better. That's unacceptable. That's unacceptable. Unacceptable. Shouldn't have lost today. Shouldn't be 3-4. Offense gotta play better. It's as simple as that," Marshall commented after the Bears week 7 loss.
A couple things stand out as unacceptable…
First, having a middle of the road offense when approximately 58% of your cap is dedicated to surrounding your "franchise" quarterback is unacceptable. Almost a third of that goes to a quarterback that has committed the 2nd most turnovers in the league.
Thanks Blake Bortles!
Secondly, the Bears are one game under .500 in the Trestman era after they went 10 – 6 during Lovie Smith's last year. This is not a rallying cry for Smith, his time had come to an end with the Bears and it was time for a change.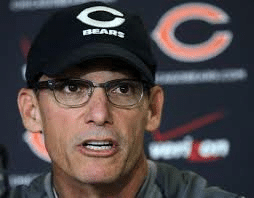 Was Trestman the right change?
The answer to that question is still outstanding and I believe that answer won't be revealed until after the 2015-16 season. Bears fans were wooed by rumors of Trestman being the "Quarterback Whisperer" and an "Offensive Genius," but are left with more questions after 23 games of his regime. The inconsistency and lack of discipline on both sides of the ball have raised red flags but the flashes of brilliance have covered these up. It is time to wade thru the BS and realize that this team is not ready to win.
Add a tantrum to the mix and fans divert their attention to an off the field issue with Marshall, Cutler and the man who "just kicks the ball," Gould. The Bears are not a Super Bowl team or even a playoff team as it stands right now and it has NOTHING to do with what happens in the locker room. Blame Cutler… Trestman… Emery… Tucker… but don't lose sight of what is really wrong with this team.
They are just not very good… right now.
@WesEvans24