The Chicago Bears fell to the Philadelphia Eagles in the 2019 Wild Card that will be remembered in infamy.
Mitch Trubisky took over for the Bears' offense at his own 42 with a chance to extend the Bears' season and further silence his critics. His counterpart Nick Foles had just orchestrated what appeared to be the nail in the coffin of the Bears' season until Tarik Cohen's clutch kick return gave the Bears good field position. Trubisky merely had to get his team in field goal range to overcome a 16-15 deficit and set up a rematch with the Rams in the divisional round.
The second-year quarterback started the last drive with an incompletion to Taylor Gabriel to draw out the groans and rolling eyes of onlookers who have watched every throw of the season with bated breath. His next ball, a 25-yard beauty to Allen Robinson with 44 seconds left, sent a jolt of energy into Bears fans and a stone in the stomach of Eagles fans. Number 10 found Robinson to his right again, and after one last shot at the end zone to a streaking Anthony Miller with 15 seconds left, it was time for a 42-yard field goal. The young quarterback did exactly what was needed, setting up his team for the win with 10 seconds left. All Trubisky could now do was wait for the kick. Parkey trotted out with the season on the line and the opportunity to either be remembered in the same vein as Steve Bartman or become a Chicago hero.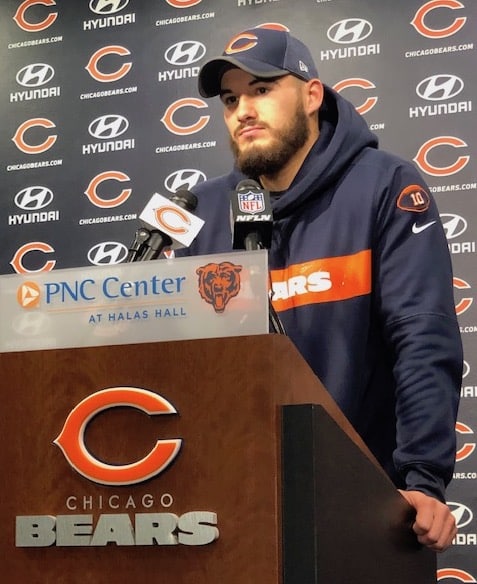 Eagles coach Doug Pederson did what he was supposed to, namely, burn his last time out in an effort to ice the Bears' kicker.
The all-too familiar sound of a Parkey kick nailing the upright sent Soldier Field into a pregnant silence, ending the Bears' season in one of the most painful ways possible.
"That's one of the worst feelings in the world to let your team down, so I feel terrible," Parkey said. "I'm going to continue to put things into perspective. Continue to put my best foot forward and sleep at night knowing that I did everything in my power this week to make that kick. For whatever reason, it hit the crossbar and the upright. I still couldn't do it. Yeah, I feel terrible."
Logic dictates that Parkey's career in Chicago is likely over, and the Bears' biggest question mark entering the offseason is still finding a kicker, but let's take an optimist's approach. Super Bowl teams have great kickers like Adam Vinateri, Stephen Gostkowski and Justin Tucker. There is only one glaring hole on this Bears' roster (There could be one more, depending on Fangio's future), quite the turnaround compared to the offseason needs of years' past. Much of their core is under contract through 2020 and Trubisky's team-friendly rookie contract affords them wiggle room to add depth this offseason.
"(Chicago)'s a place you want to play," Allen Robinson said. "And I think just down the stretch you see how us teammates rally around each other… You saw a lot of guys make big plays last night from, Taylor, Me, Anthony Miller, Tarik (Cohen), Jordan Howard."
Trubisky's performance Sunday night had to be the biggest positive from Sunday night. A dreadful 13-of-23 for 105 yards stat line in the first half left the game tied at 3, but his second half performance was a major improvement, going 13-of-20 for 198 yards and a go-ahead touchdown. Most importantly, he put the Bears in position to win.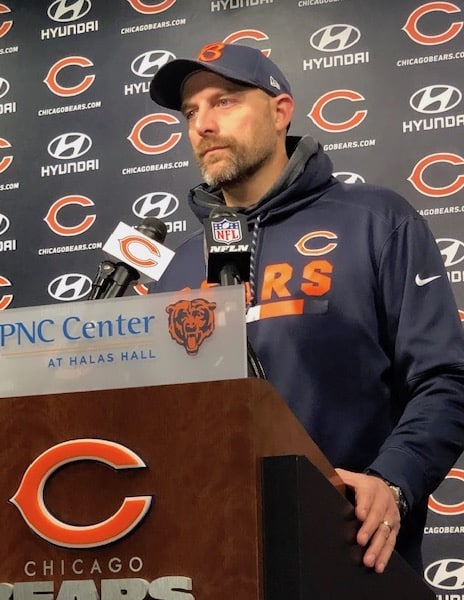 "I was just telling somebody in there, no one, not one person truly knows how far that kid has come this year than me," Nagy said. "I mean, we're lucky. We're lucky to have him. I'm looking forward to the future. I really am, with him, because the city of Chicago is lucky to have that kid at quarterback."
"He's a leader and he's a heck of a football player and he's the guy you want in your huddle in that situation," Kyle Long said of Trubisky said.
The Mitch Trubisky-Allen Robinson connection was on full display Sunday night, with the two linking up 10 times for 143 yards and a touchdown. Trubisky found Robinson deep multiple times in critical moments, as Robinson routinely got behind Eagles cornerback Avonte Maddox.
"Yeah, just taking advantage of the backside match-up," Trubisky said. "They do a great job of taking away the passing strength for us and just making you take away certain spots and throws. They were playing off of zone so we just had to find ways and get creative to get the ball to playmakers and A-Rob did a great job of running his routes and getting open, and I was just trying to put it in a spot for him to make plays. And he made a bunch of great catches, and like everything else, it starts up front with our guys giving me time."
The Bears' defense was as iron-clad as it had typically been, but the Eagles' offensive line is one of the best in the NFL and allowed only one sack. Playoff games are often determined by who had more lucky bounces, and, well, the Eagles had the best one of all. The Bears can go into the offseason with their heads held high after winning the division in what was supposed to be a "first-step" year. Bryce Callahan and Adrian Amos are both free agents, but Prince Amukamara said on Monday that he and his teammates will do their best to recruit them. Next season may lead to some defensive regression, depending on who they can keep and especially wherever Vic Fangio coaches next year. But all that can be prevented if Mitch Trubisky is the quarterback the Bears think he can be. So, in regards to the fate of the Bears' future, I'll leave you with one final thought, a sentiment I've repeated all year:
It all comes back to Mitch.
Follow on Twitter: @crbevins11 @radiomogul
Hear audio from Adrian Amos, Prince Amukamara, Trey Burton, Allen Robinson, Kyle Long and Sherrick McManis: