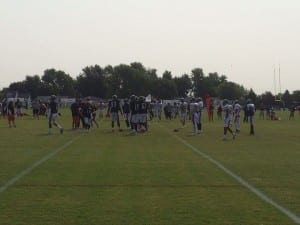 The Chicago Bears are coming into the 2014 season with huge expectations in the NFC, mainly because they have a healthy Jay Cutler and an impressive set of weapons that can get it done through the air and on the ground. However once again on Friday the defense stole the show and made the offense look sluggish at times.
Because of possible storms in the area, practice was cut a half hour short on Friday, yet that did not stop the Bears D from going full speed and once again making some big plays. Free Safety Danny McCray, (who has been taking first team reps this week) intercepted a Lance Briggs tipped ball, and undrafted rookie linebacker Christian Jones looked impressive again at Fridays practice as he attempts to make the teams final roster.
Obviously training camp is when the Bears will get the best look at who will be playing where,on the defensive side of the ball. Lance Briggs and D.J. Williams, if healthy should both start at linebacker. Shea McClellin has shown flashes of being a solid strong side backer, however he is still learning the position and will most likely be used in pass rushing situations after struggling against the run as a defensive end his first few seasons. Second year Linebacker Jon Bostic was thrown into the mix last season due to injuries and struggled at times, however you can see the talent is there and he is a freak athlete. Bostic is currently behind Williams on the depth chart, but says last years experience has helped him learn all of the LB positions.
" At any given time anybody can go down" Bostic said friday. " The next best combination maybe me at another position."
The Bears have rested both starting cornerbacks, Charles Tillman and Tim Jennings, throughout camp, and free agent addition DE-Jared Allen has received some veteran rest as he prepares to make his debut in a Bears uniform at Soldier Field- when the Bears host their "Meijer Family Fest" on Saturday night ( 6:30 p.m.)
Jon Bostic on where he fits in on defense

Bears practice notes from Friday
– Jordan Palmer continued to struggle, while Jimmy Clausen has looked very comfortable in the position battle to become Cutlers backup
– Charles Tillman was held out of practice ( coaches decision) Starting Center Roberto Garza was excused from practice ( personal reasons) Alshon Jeffery was also excused.
– Chris Conte ( shouler) Craig Steltz ( groin) and Kyle long all remained out on Friday
– Lance Briggs broke up two Jay Cutler passes during 11-on 11, one resulted in a McCray INT.
– Adrian Wilson took over first team safety duties from Ryan Mundy. Looks like the Bears want to see diffrent looks and combinations at safety. Rookie-Brock Vereen is also fighting for the strong safety spot.
– Shaun Draughn continues to see reps as the second team running back.
Podcast: Play in new window | Download