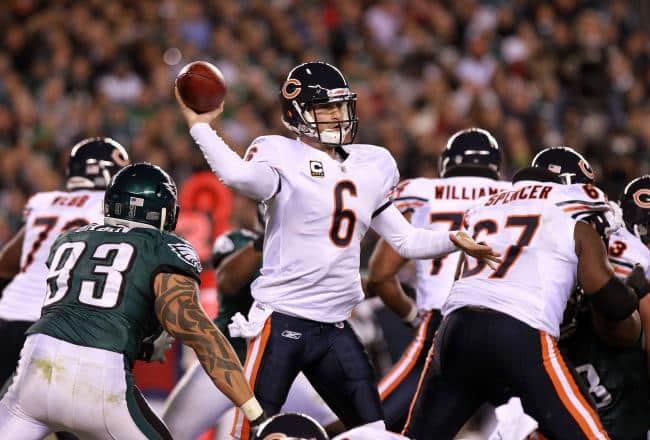 Just a few short weeks ago, the Chicago Bears' playoff hopes seemed to be over after two straight losses to the Rams and the Vikings. To make matters worse, the Bears were playing without starting quarterback Jay Cutler and starting linebacker Lance Briggs.
Fast forward to week 16, the Bears now find themselves atop the NFC North and in control of their own playoff destiny with two weeks remaining in the 2013 season.
While Cutler was out with both a groin injury and a high ankle sprain, backup quarterback, Josh McCown, led the Bears to a 2-2 record and completed 147-of-220 passing attempts for 1,809 yards, 13 touchdowns and one interception before turning the starting duties back over to Cutler last Sunday.
"The guys rallied around me," Cutler said. "I'd be lying if I didn't say there was (pressure) with everything on the outside and as well as Josh has played. But this was the plan all along and no one really flinched in our building."
Cutler will now take on a Philadelphia Eagles secondary that allowed Matt Cassel to throw for 382 yards last week against the Vikings, and is ranked 31st in pass defense, giving up 291.6 yards per game. Cutler has completed 189-of-296 passing attempts for 2,173 yards, 16 touchdowns and 10 interceptions for an 89.8 passer rating, 12th highest in the NFL.
Cutler will have his usual weapons Sunday night and they have been nothing short of spectacular this season. Averaging an NFC-high 29 points with Cutler throwing to both  1,000-yard receivers, Brandon Marshall and Alshon Jeffery.
Matt Forte has also put together a solid season so far in 2013. Forte has run for more than 100 yards the past 3 games, and 1,200 yards this season.
"Chicago might be one of the most talented offenses we face," defensive coordinator Bill Davis said. "… (Cutler) can make all the throws and you can tell he understands this offense because his eyes are downfield and he's getting the ball where it needs to be. This is, overall, probably our biggest test."
While the Bears have been great offensively, the defense has continued to struggle giving up 152.4 rushing yards a game, which is the most in the NFL this season. Sunday will not get any easier as they face LeSean McCoy, the leading rusher in the NFL this season.
The Bears defense did get some good news this week: Lance Briggs is returning to practice after missing the last 7 games with a fractured shoulder which he suffered on October 20th in a loss to Washington.
"We'll see where he is Sunday morning," Trestman said. "We'll see how he feels and where he's at, but he's been cleared. We'll list him as questionable up until game time. He'll work out before the game and we'll see where he's at."
The Eagles rushing attack wont be the Bears only worries defensively. Eagles quarterback Nick Foles has played great since filling in for the injured Mike Vick, throwing for 2,398-yards and 23 touchdowns, while only throwing 2 interceptions.
On the other end of those passes will be Eagles wide receiver,  DeSean Jackson who had a career-high 10 catches for a season-best 195 yards last week against Minnesota.
"Any time you're able to play Sunday night, Monday night, a game where the whole world is watching, it definitely makes a difference," Jackson said. "… It's going to be a big game, the stage is set already so we're ready for it."
The Bears have had success against Jackson in the past holding him  to 42 yards over the last two meetings, however Charles Tillman played both of those games. The Bears announced early in the week Tillman will miss the rest of the regular season and playoffs due to torn triceps.
While both the Bears and Eagles are trying to clinch their respective divisions with a win, there is a possibility this game could be meaningless to both teams.
If Dallas loses at Washington early Sunday, the Eagles (8-6) will claim the NFC East title by beating the Bears. If the Cowboys win, this game becomes less important for Philadelphia because with a win or a loss, the East would be up for grabs next week when the Eagles face Dallas.
The Bears will win the division with a win Sunday night if second-place Green Bay loses to the Pittsburgh Steelers and the Lions lose to the struggling New York Giants. Of those North rivals, if Detroit is the only loss, this game won't mean anything to the Bears because regardless of the result they would face the Packers for the division title next Sunday on week 17.