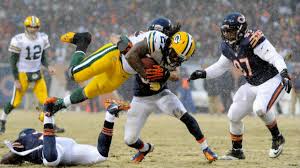 The Chicago Bears had the Green Bay Packers right where they wanted them, it was fourth-and-8 from the Bears' 48-yard line with 46 seconds left, and the Bears leading 28-27 in a winner take all battle for the NFC North and a chance to host a playoff game.
Meanwhile in the Packer huddle, Aaron Rodgers knew he had to make a play to keep the Packers season alive. On the winning play, Rodgers avoided an all-out blitz and found a wide-open Randall Cobb for a 48-yard touchdown to put the Bears away for good.
"That was the route," Rodgers said. "He had a vertical, but I didn't think that was going to happen."
It was not all fun and games for Rodgers, who had missed the previous seven games with a broken collarbone suffered against the Bears earlier this season on Monday Night Football. Rodgers threw two first half interceptions, one in the end zone by Bears safety Chris Conte which led to an eventual Bears touchdown.
Jay Cutler played good enough to win the game, throwing for 226 yards with two touchdowns and an interception, however He is now 1-9 against Green Bay, including that conference final and a loss with Denver in 2007.
Cutler will now become a free agent and the Bears will have to decide if they want to resign him, give him the "franchise tag", or let him walk after another season of missing the playoffs.
"I think we'll deal with that later in the week," Cutler said. "Right now, I'm kind of living in the moment. I'm a little upset about the game and how it went. This locker room is never going to be the same. [We'll] miss some guys. Some guys are going to leave. Some guys are going to stay. It's part of the business."
Cutler wasnt the only Bear to play well on the offensive side of the ball, Matt Forte ran for 110 yards and two scores. He also had 47 yards receiving with a touchdown catch.
Alshon Jeffery had 80 yards receiving, and Brandon Marshall had 74 in the losing effort, and after the game Marshall made it clear who the Bears quarterback should be next season.
"Jay will be back. So all the stories for the offseason you guys can just put that at the bottom. Write everything you have to say and just say, 'Brandon said Jay will be back,'" Marshall said. "Just like I said Jay would be back from the groin injury, Jay's gonna be back in a contract year. I don't have any inside information. That's my quarterback."
While the offense looked good Sunday, the defense was a whole different story, allowing Rodgers to throw for over 300 yards and two touchdowns, while also making one of the biggest blunders we have seen in the NFL this season.
Green Bay had a first down at the Chicago 17 when a sack and strip of Aaron Rodgers by Julius Peppers turned into a unusual Packers touchdown. When the ball came loose, the whistle never blew and Packers reciver Jarrett Boykin scooped it up and headed 15 yards to the end zone for a score to give the Packers a 10-7 lead.
Bears starting Cornerback Tim Jennings could do nothing but shake his head after the game.
"One of those fluke plays that we just didn't finish," Jennings said. "That's not what we practice. If that ball [is] on the ground, it's our ball. That just simplifies how this year has been going for us, man. Just been up and down. To let something like that happen, that's not us. That's some of the things with the transition, the new style and everything we got going. Not making excuses. That's just how the year's going."
The final defensive play of 2014 exposed the Bears for what they need most, a better pass rush and secondary. Rodgers game winning pass to a wide open Cobb left coach Mark Trestman stunned
"The thinking is we can sit back in zone and give him the opportunity to make a play, or we can try to make him rush the throw," Trestman said. "We had good pressure on. [Fullback Jon] Kuhn just got an edge, just got a piece of [Peppers] and Aaron was able to slip outside.
"It's not easy to go to your left and make a play like that and he did. What can happen if a quarterback breaks contain in a zero blitz like that, it leaves a lot of field for any defender to have to cover."
The Bears will hold a final press confrence this Thursday with Phil Emery and Marc Trestman scheduled to speak.