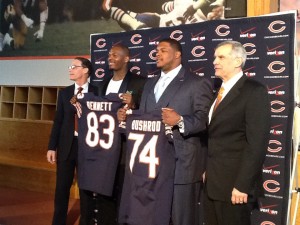 Just like the Bears training center is under construction this offseason, so is the team It wasted no time during free agency jumping into the pool of available players by signing a Pro Bowl offensive tackle in Jermon Bushron, a former Saint, and Martellus Bennett who migrates from Broadway to the Second City.
The could not provide a greater contrast in personalities. Bushrod, a quiet soft spoken lineman from tiny King George, Virginia, by way of Towson University was the 125th pick in the 2007. He worked his way into the starting lineup and played on the Saints' Super Bowl XLIV Championship team.
By contrast, Matellus Bennett, while not exactly a free spirit, professes a love of abstract art and writing, a far cry from the average six foot six tight end.  Nevertheless, he also like run blocking  and pass catching which should please his coaches greatly. So much so that Chicago cut both Kellen Davis and Matt Spaeth from the roster. He did however explain during  his introduction to the Chicago mediahow he acquired the nickname "the black unicorn." It involved his professed like of unicorns, and the fact that all unicorns were white in color. He saw himself in his black uniform racing down the field as the black version of the mythical creature.
GM Phil Emery noted that these two acquisitions will allow the Bears to focus on the drafting players to fill the remaining team needs, presumably a backup quarterback included.
Coach Marc Trestman praised the front office staff for making the signings a reality and looks forward to working with them.
Both players spoke of wide receiver Brandon Marshall and his role in their choosing to come to the Bears.  Maybe Marshall will have a future career as an ambassador after his playing days are over.
Listen to comments from Emery, Bennett, Trestman, and Bushrod.
[jwplayer mediaid="8247″]