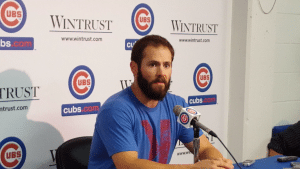 Arrieta on his body of work "it's good."
Jake Arrieta's walkup song is Lean On by Major Lazer and DJ Snake. Listen above.
"Do you recall, not long ago
We would walk on the sidewalk Innocent, remember?
All we did was care for each other
But the night was warm
We were bold and young
All around the wind blows
We would only hold on to let go
Blow a kiss, fire a gun
We need someone to lean on
Blow a kiss, fire a gun
All we need is somebody to lean on
Blow a kiss, fire a gun
We need someone to lean on
Blow a kiss, fire a gun
All we need is somebody to lean on"
That's who Jake Arrieta is.  He is the guy the Cubs can lean on.  And they need it.  A squad filled with youth, full of life and energy needs that guy.  The guys who can keep it all together.  The guy who is unfazed by the past and is able to step into the present.  The guy who sets the mental and physical fitness standard on the club.  The guy who focuses on his swing too. The guy who doesn't let the Windy City and the Cubbie Blue get to him. The guy who shows up early on days he's not pitching. The guy who insists on having his wife and children accept his honors with him at Wrigley following his no-hitter. The guy who takes things seriously, but not too seriously.  His teammates love him for it, his manager loves him for it, the fans love him for it.  He has been the guy for all of them to lean on.
Jake Arrieta's season, first half, and especially his second half has been one of dominance.  He put up very good numbers in 2014, numbers that most said he wouldn't be able to replicate. After proving them wrong, getting off to a good start in the first half of the season, he was snubbed at the all-star break, though it should be noted that the competition for all-star pitching was of high and contentious quality.  Proving a majority wrong once again, Arrieta posted the best ERA in baseball in the second half of the season, an incredible .75. In addition, he has ended the season with 12 consecutive wins.
Arrieta has a remarkable stat sheet. The wins: he is 22-6, with the most wins in all of baseball.  Twenty wins is a feat, one he graciously completed under the home lights and vibrant crowd of Wrigley.  Not phoning in two subsequent starts and getting to the 22 number is just exceptional.  The ERA: 1.77.  This is not only second-best in the league this year to Greinke's 1.68, but like Greinke's, it is one of the lowest in the last 25 years. The strikeouts: 236.  Arrieta is second in the National League to Clayton Kershaw's outrageous 294 strikeouts.  Other stats: He and Kershaw lead the National League and are second only to Dallas Keuchel in innings pitched with 229 over 32 starts.  He has the second highest (to Greinke) winning percentage, of .786 in the majors-but Arrieta has two more starts and 7 more decisions.  He has four complete game shutouts, the most in the majors.  He's only given up 5.9 hits over nine innings, the best in the majors.  He and Greinke have the most quality starts over the season.  However, he does have the longest streak of quality starts this year, at 20, edging Kershaw's total last year.  Oh, and Arrieta has a no-hitter against the team Greinke and Kershaw play for by the way.  Don't forget that one on the resume.
The marquee stats are impressive.  The ERA, the wins, the strikeouts, the ones that are really used to determine the Cy Young award are quality.  However in a race as close as this one, see below,
Kershaw: ERA 2.16, W/L 16-7, SO 294
Greinke: ERA 1.68, W/L 18-3, 192
Arrieta: ERA 1.77, W/L 22-6, 236
a couple things happen.  First, the question as to who is best all around and dominant is asked.  Arrieta is either first or second in the NL in all three categories.  Both the Dodgers making bids are third or worse in one of the three major categories.  The question that follows is as to what the award, in this case, the Cy Young, is supposed to represent.  It is defined many ways, but one definition applicable for the voters is the "annual award given to the most outstanding pitcher in each of the major leagues." Now Arrieta is arguably the best/most well-rounded, and also arguably the most outstanding, just see the paragraph above.  There are a great deal of categories, almost all of them, in which Arrieta stands at or above the two Dodgers as well.  There are a number of "league bests" and "majors bests" that he has that the other two don't.  These just pad his bid for the Cy Young for voters looking for some other deciding factors.  
Arrieta is a large reason for the Cubs success this season, and not just in the 22 wins he has accumulated.  In addition, Arrieta is also a large reason for the Cubs never hitting any slumps or prolonged speed bumps.  The Cubs never dropped more than five in a row this season, and allowed themselves to be swept in a series only twice.  Arrieta stands as a bright spot every five starts, regardless of what else is going on around him and the club.  This is evident in his ability to go 10-1 after a Cubs loss over the 2015 regular season.  So not only is he good, but he is consistently good under pressure, when he is the only thing stopping a young, mentally green, potentially vulnerable squad from spiraling into a tailspin of a losing streak, one that certainly can't be afforded in a powerhouse of a division like that of the NL Central.
Though, it is all but announced to most that Bryce Harper will be named NL MVP with his impressive offensive stat line.  The all-star and young-blood, new, attractive face of baseball carries a .331 average (2nd in the NL), 42 home runs (tied for first in the NL), 99 RBIs (tied for fourth), and 117 runs.  However, again, if one thinks about how "MVP" is defined, what is often used in interpretation is the value, hence most valuable part of MVP, but how much value can you possess when your team doesn't make it to the playoffs?  Not that Harper isn't incredibly dominant, talented, or even the "best player" in the national league at this given moment, but rather, even with his talent, has he been as vital and successful in contributing to his team's success as Arrieta has and is (and there still is an is because his team is headed to the playoffs)?  Single-handedly fighting off slumps, responsible, at least half responsible for 22 of his club's 96 wins, and just out-pitching batters and situations he faces in the most high-stakes, pressurized time (down the stretch), in the toughest division (NL Central), and uplifting, a "cursed" (durn billy goat be damned) team, all sound like very, very, valuable things to me. It's up to the voters, again, to decide if he is the most valuable in the National League.
Two things are for sure:
It is sure as hell nice to see good things happening to good people.  Good fathers and good husbands and good teammates with good work ethic and discipline don't always see the success Arrieta is seeing.
Regardless of his ability to claim one or two regular season awards, Arrieta has been everything for the Cubs.  The epitome of a "rock."  No matter if it is someone blowing a kiss, or firing a gun, Arrieta is the Cubs' some one to lean on.