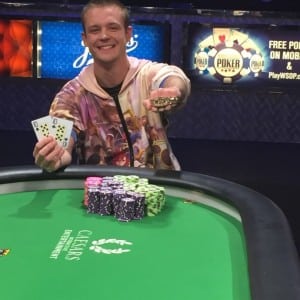 Ever since The aptly named Chris Moneymaker won the World Series of Poker Main Event in 2003, part time and amateur players have been vying with experienced pros to claim some of the richest purses in a the game.
The folks that run the most popular poker tournament in the world added some new wrinkles in 2015 to boost the popularity of the game, which has dipped in recent years with the loss of access to most online sites for American players.
Two new events made their debut this year, one of which was the "Colossus." It boasted a record field of more than 23,000 entrants who paid a mere $565, about half of the lowest buy-in at the World Series. That winner, Cord Garcia, walked away with over $600,000.
On Wednesday night, another part time player joined the ranks of Poker celebrities, when Adrian Buckley, a 27-year old electrical engineer from Colorado bested 7275 other players, who each ponied up $1500, and took first place for a cool $1,277,193 in the first WSOP Millionaire Maker. These were not all fellow amateurs, as there were several tournament tested professional players in the field, such Erick (E-Dog) Lindgren and Olivier Busquet. Even World Poker Tour commentator Mike Sexton was among those who made the final table, but did not take first place. Runner up, Javier Zarco, a Spaniard living in Atlanta, also realized his first WSOP cash. Zarco's second place finish was good for $791,690.
"I came here this year with a limited bankroll. And I told myself I'm gonna play in ten events and see how I do," Buckley said afterwards. "I've been playing every once in while since I was a young kid, just trying to get through school and pay for school. I've never really had the bank roll to actually play poker. I've done well in cash games and small tournaments. I've been a cash game grinder for a long time, but never had the money to play in some big events." He added, "I didn't expect to final table, I didn't expect to make it super deep in any of the tournaments, but I knew I had the skill to at least do my best to make it as far as I could."
It certainly didn't  appear the Adrian was headed for a date with destiny. Entering the third day of this grueling tournament, contested over four days, Buckley's chip stack ranked him 139th of the remaining 142 entrants. Even on the last day, he began as the smallest stack among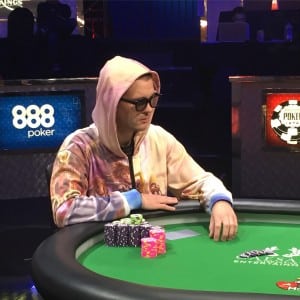 the remaining seventeen players.
By the time the field had been reduced to ten, and the live, online coverage began, Buckley was in seventh place. Then he steadily began to increase his chips, and before long, there were three left, Buckley, Zarco, and Busquet, a skilled heads up player who provides analysis and commentary for poker broadcasts. However, Busquet lost a large pot to Buckley, and was eliminated shortly after the dinner break, leaving the two rookies to battle heads up. That duel lasted slightly more  than three grueling hours, with the chip lead going back and forth, until Adrian's pocket tens bested Javier's two sixes.
Buckley at the table sat stoically, almost robotic in his actions. However, the cool, calm demeanor he displayed belied his inner turmoil.  "I thought I had a heart attack like twelve times. I've never been in this situation before, Adrian noted. "I'm just trying my best to take every single hand, one hand at a time. I didn't let emotions get to me, but inside I was freaking out. But at  the same time it was just a regular poker game, as long as you win the poker game you do really well."
In the post victory he was remarkably animated, in sharp contract to his quiet, and contemplative persona, at the table.
Asked what his future plans are, Buckley, a Colorado University grad, with a degree in Electrical Engineering commented, "I'm going to be in the poker community more often which is a great thing, because I thing I'll be great face to the game, cause I have a really good time. But I don't know what the plan is yet. I'll pay off some student loans, which is huge, and then I'll get myself out of debt. I'll be able to start playing poker more. It literally the best thing I do during my days, play poker."
Yet Adrian still plans to be at work on Monday.
This is one story that happens in Vegas, but won't stay in Vegas.