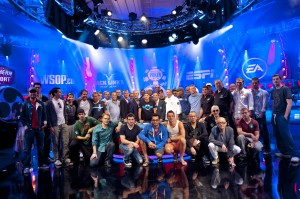 Most people who aren't big poker fans are still aware of the Main Event at the World Series of Poker. The causal fans might not be realize that there are actually sixty different events that make up the annual poker orgy that is the World Series.
The buy-ins to participate in the various tournaments range from as little as $500 for the casino employee events to as much as $10,000 for the more exotic events including the Main Event.
A new event debuting this year is the "Big One for One Drop," a unique tournament with the largest buy-in ever, an eye-popping million dollars. This is the brainchild of Cirque du Soleil founder Guy Laliberte, to benefit One Drop, his charity aimed at making safe water available to impoverished communities in the developing world.  Link to One Drop web site.
The tourney was limited to forty-eight players, of which $111,111 from each buy-in will net the charity a cool five million.
What kind of player ponies up that kind of loot to play in a poker tourney? According to the stats provided by the folks at the WSOP, there were 28 experienced poker pros, and twenty amateurs. The amateurs are comprised of a mix of corporate CEO's, hotel moguls, venture capitalists, and hedge fund managers. They include a pair of Russian and Malaysian businessmen.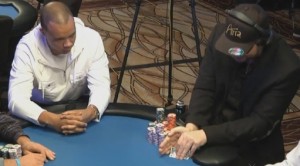 These are no ordinary amateurs. Most play in high stakes cash games. They could easily write a check to charity for a hundred grand. But everyone wants a shot at the 18 million dollar first prize. That is substantially more than the eight or so million that the Main Event winner will take home. If you think about it, one only has to outlast four dozen players versus four thousand wannabe champions.
Among the poker pros are some very well known names, such as Phil Ivey, Daniel Negreanu, Michael "The Grinder" Mizrachi, Erik Seidel, Mike Sexton (from the World Poker Tour,) and Phil Hellmuth, who just won his record twelfth WSOP bracelet.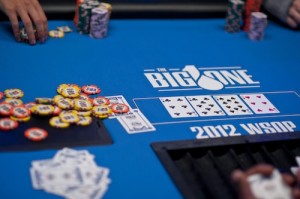 The second day of play got under way earlier this afternoon. Sixteen of the twenty amateurs were still alive, probably, because they tend to play a bit more conservative than the professionals.
Follow the action on the WSOP website at
http://www.wsop.com/2012/live-video/default.aspx?TID=12155
You cannot see any hole cards. All you have is the analysis and commentary from poker experts. And that analysis can be very informative.
Coverage of the final table on Tuesday will be broadcast on ESPN2, beginning at 4 ET.
Shuffle up and deal.