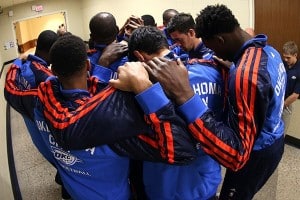 It's one of my favorite times of the year- NBA trade deadline season! A time when unsubstantiated rumors are thrown around like insults at a roast. As a future NBA GM, I have spent countless hours on the ESPN Trade Machine figuring out ways to manipulate rosters to address team needs. This season, I have crafted five trades that would impact the NBA landscape. These trades comply with salary cap regulations as well as rules regarding trading draft picks. More importantly, I believe these trades to be mutually beneficial for the teams involved and interesting for the league. Without further ado, here are my big deals.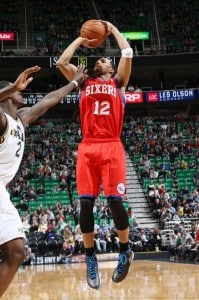 1. Evan Turner to the Bobcats
Bobcats receive: Evan Turner
Sixers receive: Ben Gordon's expiring contract and Blazers 2014 1st Round Pick
Why it works-
The Bobcats are currently clinging to the eighth seed in the East. After years of ineptitude, the Cats need to give their fans some sense of hope. Turner is a solid all-around player, averaging 17.4 points, 6 rebounds and just under 4 assists per game. The Cats would have the option to insert Turner into the starting small forward spot or use him as their sixth man. Either way, Turner would be an upgrade over Jeff Taylor and Chris Douglas-Roberts.
Rumors are circulating that the Sixers will be active at the trade deadline. With an eye towards the future, GM Sam Hinkie will be looking to bring in draft picks and expiring contracts. Acquiring Ben Gordon's expiring contract and the Blazers 2014 first round pick will do both of these things. It's hard to imagine the Sixers giving Evan Turner a long-term deal in the offseason. Thus, it makes sense for Philly to get what they can for him now.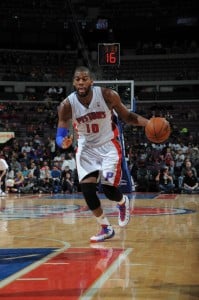 2. Greg Monroe to the Warriors
Warriors receive: Greg Monroe
Pistons receive: Harrison Barnes
Why it works-
Golden State is one of the most entertaining teams in the league. However, they have had a disappointing season thus far and are only nine games above .500. One of the primary issues for the Warriors has been figuring out who to play in crunch-time. The addition of Andre Iguodala has left Harrison Barnes as the odd man out. As a result, Barnes has become expendable for the Warriors. By trading Barnes to Detroit for Greg Monroe, Golden State could add much needed frontcourt depth and solidfy their crunch-time five. A closing lineup of Curry, Thompson, Iguodala, Lee and Monroe would be deadly on the offensive end and big enough to hold their own on the boards.
The Pistons have a logjam in the frontcourt. The experiment of playing Andre Drummond, Greg Monroe and Josh Smith together has been an epic failure. Not only is Detroit's offensive spacing terrible when those three are on the floor together, but they are also allowing 108.4 points per 100 possessions, per NBA.com. Bringing in Barnes would give the Pistons a natural small forward who has the potential to grow into a very productive player.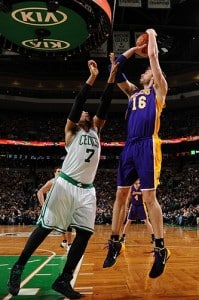 3. Pau Gasol to the Suns
Suns receive: Pau Gasol
Lakers receive: Emeka Okafor's expiring contract, Miles Plumlee & Suns 2014 1st Round Pick
Why it works-
Some writers predicted the Suns to be in full tank mode this season (slowly drops his head in shame). Shockingly, the Suns are in playoff position and appear just a piece away from serious contention. Pau Gasol would be a great addition, bringing a reliable low post presence that could take some of the scoring pressure off of Goran Dragic and Eric Bledsoe come playoff time. Gasol would make the Suns a difficult matchup for anybody in the West.
The Lakers are awful and it appears they will be for the near future. The goal for L.A. should be acquiring draft picks and slashing salary. Gasol has never fit in well with Mike D'Antoni's system and it appears both sides would benefit from a change. The draft pick the Lakers would acquire will not be as valuable as many would have guessed before the season, but in a deep draft, the Lakers could add a nice young piece. Miles Plumlee has shown flashes of competence as a backup center and would be a key sweetener for the Lakers.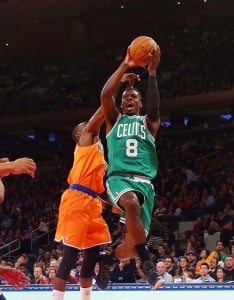 4. Jeff Green to the Rockets
Rockets receive: Jeff Green, Phil Pressey & Vitor Faverani
Celtics receive: Omer Asik & Aaron Brooks
Why it works-
The Omer Asik soap opera has to come to an end. The Rockets would do well to bring in Jeff Green, a player who can play the stretch-4 and space the floor for Harden-Howard pick-and-rolls. Green is shooting 36% from three-point range this season. While this is a respectable mark, I would expect this percentage to increase upon arriving in Houston as Green would no longer be the primary offensive focus of the opposing defense.
In Asik, the Celtics would acquire a quality big man who could anchor their defense for years to come (if they choose to re-sign him after next season). Pairing Asik with Jared Sullinger would give the Celtics a talented, young frontcourt pair. In addition, next season the Celtics would have Asik's expiring contract as a trade chip to utilize in their rebuilding process.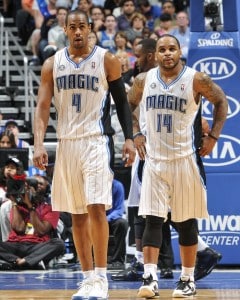 5. Arron Afflalo to the Thunder
Thunder receive: Arron Afflalo
Magic receive: Jeremy Lamb, Kendrick Perkins & Mavericks  2014 1st Round Pick
Why it works-
The Thunder are playing excellent basketball this season. An upgrade from Jeremy Lamb to Arron Afflalo would put the Thunder in pole position to capture the NBA title. Afflalo is having a great season for Orlando, averaging 19.4 points per game and shooting 42.7% from three, per NBA.com. Unlike the James Harden trade, the Thunder should focus on the present rather than the future and go all in on a championship run. Adding Afflalo would signal the front office is doing just that.
Orlando is 16-38 with Afflalo. Trading him will only benefit the Magic by ensuring that they will lose more games and get a better chance at a high pick in the draft. What's more, Afflalo will be 30 years old next season and it is unlikely that he will factor in to the Magic's long-term rebuild. The Magic would be happy to acquire an additional pick and a potential talent in Jeremy Lamb. Perkins will also be in the last year of his contract next season, making him a possible trade asset.
Follow me on Twitter: KevinMajor_SRN
Email me: KevinMajorSRN [at] gmail [dot] com