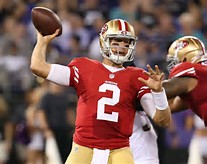 One week ago today, the Bears stunned Aaron Rodgers and the Packers at Lambeau Field with a 17 – 13 win. If only Bears fans could live in that moment when Rodgers' pass sailed thru the hands of wide receiver Davante Adams and Jay Cutler was victorious in a place where he was winless. That was a simpler time… before Bears fans had serious hope for a playoff berth.
That hope will remain as long as the Bears keep winning and that starts this Sunday against the lowly San Francisco 49ers in which the Bears can get to .500 for the first time in over a year. The Niners come in with a 3 – 8 record and are in the midst of an organizational transition away from QB Colin Kaepernick and towards QB Blaine Gabbert.
Gabbert took over the reins last week against the Arizona Cardinals and held his own against a good defense, as he went 25 – 36 for 318 yards, 1 touchdown and 1 interception. Selected by the Jacksonville Jaguars 10th overall in the 2011 draft, Gabbert struggled as a starter in his first 2 season in Jacksonville and was release by the Jaguars after the 2013 season.
Gabbert has completed 65.3 percent of his pass this year and has 4 TDs to 3 INTs while cultivating a connection between his TE Vance McDonald. McDonald has 10 receptions for 136 yards and two TDs in the last two games that Gabbert has played. The 49ers will be without RB Carlos Hyde and will have ex-Bear Shaun Draught tote the rock this Sunday.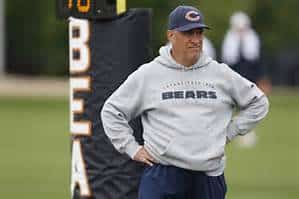 Bears defensive coordinator Vic Fangio is going up against his old team for the first time since leaving SF and it comes on the heels of the Bears best defensive performances of the year. The Bears followed up their worst defense in franchise history with an even more pathetic performance last year and Fangio has turned this no named defense into a respectable product in 2015.
The 49ers are Dr. Jekyll and Mr. Hyde when it comes to playing on the road verses at home. 49ers are #4 in the NFL for points given up per game at home (15.8) while dead last in PPG given up on the road (35.2). This bodes well for Cutler and the Bears offense, especially with Marcellus Bennett coming back from injury and Matt Forte another week healthier.
The Bears may have lost WR Marquees Wilson to injury Wednesday at practice so Marc Mariani and Cameron Meredith will have to step in to fill Wilson's absence. Expect a heavy work load for WR Alshon Jeffery, TE Zach Miller and RB Matt Forte due to the lack of experience on the outside and the uncertainty of Bennett's performance on the field.
There is a crazy amount of enthusiasm surrounding this 5 – 6 team but no matter what your thoughts are for this Bears team, they need to win out to have a chance to make the Wild Card.
It all starts with 49ers this Sunday.
---
49ers Bears Notes & Predictions
Key Matchup: Vic Fangio vs. Blaine Gabbert
Key Injuries: WR Marquess Wilson (Questionable), WR Eddie Royal (Doubtful), TE Zach Miller (Questionable)
Fact: The Bears are 1 – 4 at Home in 2015
Fantasy Spotlight: RB Matt Forte
Spread: Bears -9
Prediction: 49ers 17, Bears 27
---
@WesEvans24