The NFL playoffs are upon us, and for the first time since 2010, the Chicago Bears are among the 12 teams still standing. They will cap off Wild Card weekend with a faceoff against the defending Super Bowl champion Philadelphia Eagles. It's a tough card to draw, but as the saying goes, to be the best, you have to beat the best.
A test on the secondary
The Philadelphia Eagles pose a number of problems for the Bears' pass-rush, starting first and foremost with their rock-solid offensive line. Khalil Mack will have his hands full with Lane Johnson and Jason Peters and Lane Johnson bookending the Eagles' line, so inside pressure from Akiem Hicks, and linebackers Danny Trevathan and Roquan Smith will be of even further importance.
A second pass-rushing issue comes to the surface with Nick Foles at the helm, however, and that is his time to release. The Athletic's Sheil Kapadia outlined Nick Foles's recent adjustment to getting the ball out quicker, nothing that he has gotten the ball out in 2.46 seconds on average, a stark contrast to his 2.75 second average in last year's Super Bowl run. Not only will Foles be protected by one of the NFL's most well-constructed offensive lines, but he will likely have gotten rid of the ball by the time any rush got home.
"This is the best line we've faced lately," defensive coordinator Vic Fangio said. "They're a very good offensive line. Both tackles are good. They've got good interior people, you know, with (Jason) Kelce setting it up there. So, it'll be a challenge for our front guys to play these guys vs the run and the pass."
Nick Foles's release time and a quick glance at his passing chart reveal that most of his success comes in the short to intermediate game, working off play-action, crossing routes and RPOs. This means the Bears will have to fly to the football and prevent any chunk yardage after the catch. Their safeties will have to patrol the middle of the field and limit the effectiveness of the crossing routes that Foles excels at, and Chicago's cornerbacks will be tasked with owning the short game while still respecting the deep-ball threat that Foles presents.
"We can't let them get behind us," Fangio said. "Cause this guy does have a big arm. And he does like to throw the deep ball. So if there's a chance that he can throw a deep ball and he sees it, he will throw it. And that's his mentality. That's Doug (Pederson)'s mentality. So they will do it. And a big part of this game will be how we defend the deep balls."
A good pass-rush and a good secondary often go hand-in-hand, one often covering for the other. The sign of a truly elite defense is whether or not those units can work independently of one another. This is a game in which the Bears may not be able to lean on the pass-rush, so the secondary will have to step up and keep the Eagles air attack at bay. The Bears have done an excellent job at rallying to the ball this season, making plays in space preventing teams from nickel-and-diming them. That success will have to continue. Chicago's heir pass-rush has a higher chance of getting into the backfield, the longer Foles holds the ball, and the secondary can do that by taking away his passing options. Marrying the pass-rush to the secondary will be crucial in defeating the Eagles and Nick Foles, but the Bears' secondary is a unit that is more than capable of doing so. It is now a matter of doing it when the stakes are the highest they've been.
Tarik Cohen's impact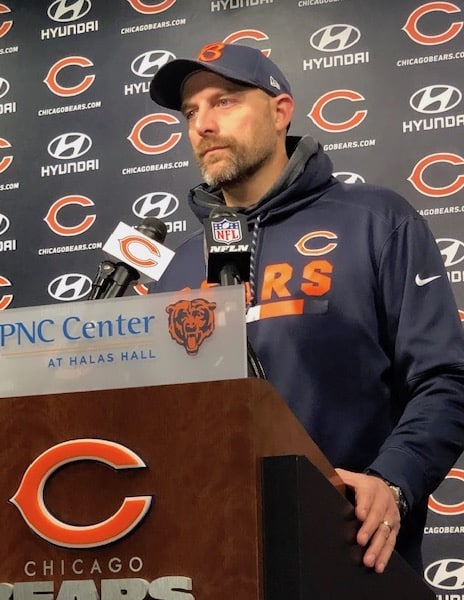 The Eagles' defense is strong in many areas, but one of their biggest vulnerabilities is their struggles against pass-catching running backs. Saquon Barkley had 99 receiving yards against them, Christian McCaffery had 57 yards and Todd Gurley notched 76.
The Bears feature one of the league's best backfield receiving threats in Tarik Cohen. He is second on their team in receiving at 725 yards. His speed and suddenness make him a matchup problem for nearly any opposing defense, and the Eagles are no exception.
The Eagles tend to match linebackers with opposing running backs, and there isn't much reason to think that won't continue this week. Tarik Cohen obviously gives up size to opposing linebackers, but his long speed and suddenness give him an enormous advantage. Matt Nagy has had no problem turning to Cohen when he has an advantage (See the Giants game), and he will probably go to him both in the short game to get Trubisky going and in the deep game on wheel routes to gain chunk yardage.
Working the deep game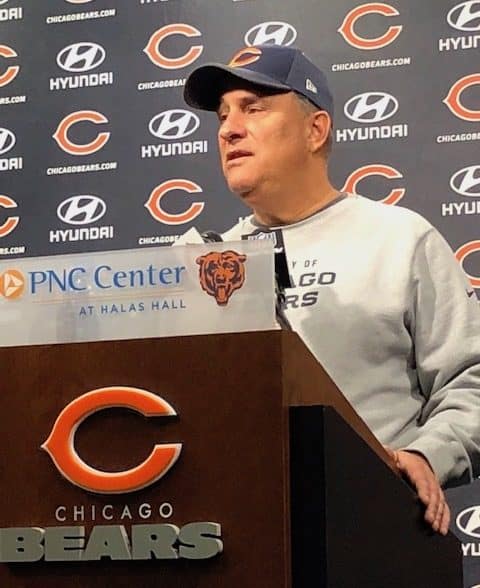 Coach Matt Nagy emphasizes staying aggressive with deep shots, but the Bears have struggled to execute said deep shots. The Eagles' secondary is massively depleted though, with three cornerbacks listed on IR and two more marked as questionable, meaning Nagy may have a little more reason to go long.
"It's all predicated on what the defense gives us," Nagy said of the deep game. "We're always in attack mode. We want to be aggressive. I think people could see that throughout the beginning of the year. We had some opportunities. Teams had decided to try to take some of that away and now we got to be able to take advantage of other things because of that."
The Eagles have allowed the third-most receiving yards in the NFL, and much of that is due to their struggles with allowing chunk yardage through the air to which they have been made vulnerable by their injuries. The Bears have the personnel to take advantage of that, particularly with Taylor Gabriel and Allen Robinson, but it is a matter of Trubisky executing his throws.
"We played in a lot of big games this year," Robinson said of why he is confident in Trubisky. "You know so throughout four quarters, you know, we've always been in a position to win the game. You know and that's the thing, I've never seen him flustered one time at all this season. You know, we've always been able to bounce back and make plays and most of those plays translate to a lot of wins."
Trubisky's 2018 passing chart reveals that he is below the league average in passer rating on throws 20 yards or further. The Bears are good enough to beat the Eagles without hitting their deep throws, but that doesn't erase the fact that there is a clear area of weakness the Bears can exploit. The Eagles' rush defense is seventh in the league, so if the Bears can't slow down their offense, Trubisky will have to step up in a big way.
Follow on Twitter: @crbevins 11 @radiomogul
Hear audio from Matt Nagy, Vic Fangio, Akiem Hicks, Allen Robinson, Taylor Gabriel and Anthony Miller