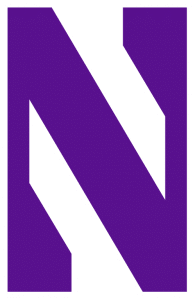 The Northwestern Wildcats survived a sluggish second half to defeat the visiting Georgia Tech Yellow Jackets by six points in the 2018 ACC- Big Ten Basketball Challenge. Coach Chris Collins was pleased with the overall effort, but not the near faltering down the stretch, as Tech cut an early 28 -point second half lead at 16:12 mark down to ten points with seven minutes left, but could get no closer than five, in the waning seconds of the game at Welsh-Ryan Arena.
After the game coach Chris Collins stated, "I thought our defense was really good. I thought we played with great energy." He went on to add, "We were really tired. We play really hard. You guys see that. We're competing on both ends.   The way we play offense we have to cut hard, so that gets you tired, too.   The fourth game in seven days with cross country travel. I thought we got winded, and we were trying to hold on. But we won the game.  I love the fact that we're learning while still winning, and I was proud of the effort tonight."
It wasn't until midway through the second half that the visitors from Atlanta managed to have any of their players in double digits.  Jose Alvarado, a talented sophomore guard from Brooklyn, fueled the Tech rally with 19 second half points, to lead all scorers with 24. Ryan Taylor was one of three Wildcats in double figures with 20 points. Vic Law contributed 14 points, 9 rebounds, and 4 assists. "We can be a good team," he said.
Georgia Tech coach Josh Pastner noted, "We dug ourselves in a hole. Defensively were weren't real good the first half. Credit that to Northwestern.  The second Half we were much better.   We got to hang our hat on the defensive end. You know, we missed some free throws the first half.  We missed a lot of layups. We're still a work in progress." Pastner also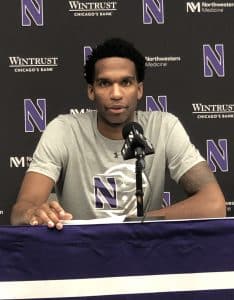 complemented center Dererk Pardon,  "He knows how to use his body and screen after those handoffs. Also, Vic Law is an all Big Ten player."
Law said in the post game press conference, "I think we're a good team. We played really well in the first half. Then we let some fatigue set in. Georgia Tech is a good team, so they made a little run there. This win shows we can be a good team."
Northwestern's cozy new gym is going to be a tough place to play. The $110 million dollar renovation was completed this year, and the capacity was reduced to slightly more than 7000. The upper level of the arena is no longer behind the lower level seats, placing fans right above the action. The students are still behind both baskets.
Next up for the Wildcats, the first conference game at Indiana, then Michigan at home.
Post game audio from Ga. Tech coach Josh Pastner, NU coach Chris Collins and Vic Law
Twitter: @radiomogul