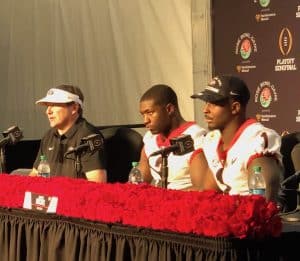 on The Sports Report with Packer Dave, Steve Leventhal, and Jeff Rich
It's also the start of the NFL playoffs, so our guest Scott Harrison, who covers the Saints regularly, previews the New Orleans – Carolina Panthers game for us.  We'll look at the other matchups this weekend, as well as give you a preview of the 2018 college football championship game between Georgia and Alabama with Drew Flatford, who covers the Bulldogs. Lastly, we also offer insight into changes in the front office in Green Bay, and the head coaching vacancy in Chicago.
Hear interview audio from Packers President Mark Murphy, Bears GM Ryan Pace, Alex Smith, Ron Rivera, Todd Gurley II, Blake Bortles, Georgia coach Kirby Smart, and Nick Saban. Don't miss cameos from Bob Costas and Jeff Foxworthy.
Podcast: Play in new window | Download