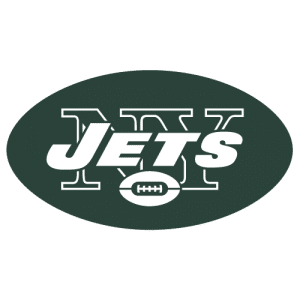 The Chicago Bears will face the New York Jets this Sunday, as they try to right the ship of their previous two losses. Their rookie quarterback and exploitable matchups make the Jets  a beatable team.
Reviving the pass rush
The Bears' lack of pass rush was noticeable last Sunday, but it was largely by design. Khalil Mack dropped into coverage eighteen times and rushed Tom Brady sixteen times. Defensive coordinator Vic Fangio cited Brady's ability to get the ball out quickly as a reason for heavy coverage from his star pass-rusher. Leonard Floyd also spent a lot of time in coverage, so the Bears often had to rely on three-man pressure.
The Bears will not face Tom Brady this week. Instead, rookie Sam Darnold will be under center in Soldier Field, bringing with him a lot of hype and excitement, and a significant lack of NFL experience.
"It's an opportunity, but, you know, this game is football," linebacker Danny Trevathan said. "Anybody can win any given Sunday, but we know we're not going to take this stuff lightly. We want to win this game. So, we're going to approach it like it's our Super Bowl."
Darnold is a lot like regular rookie quarterbacks in that, while he'll dazzle on one play, he'll make a head-scratching decision on the next. He can "make all the throws," but the question is if can he make the right ones.
Coach Matt Nagy offered praise for Darnold.
"For him to be a rookie, and thrown into the mix right away, he's making plays. And he's learning on the run. I think they're doing a good job offensively with what they're giving him. The types of plays they're giving him is benefiting him as a rookie."
Beating rookie quarterbacks typically starts with the pass-rush. If a defense can get in a rookie quarterback's face and force him to make ill-timed decisions, mistakes will happen. Although he has ten touchdowns on the season, Darnold also has ten interceptions as well. The Bears have been opportunistic with turnovers all year, forcing eleven interceptions and six fumbles. They even managed five takeaways even in their last two games, both loses. Maintaining their run of takeaway-success will be key to stopping the Jets' offense, and they can maximize those opportunities with a strong pass rush.
Player health
The caveat to the Bears' pass-rush is their health, particularly that of Khalil Mack.
Mack got off to a historically great start to his Bears career, but an ankle injury in Miami has stymied his domination. He has been held without a sack in his last two games and his injury appears to be a big reason why. He did not participate in practice on Wednesday or Thursday.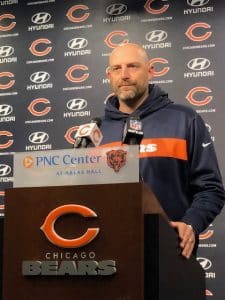 "We know when he's out there he's going to give us everything," Trevathan said of Mack. "Our defense, we got his back no matter what. We know when he's ready he's going to be ready. So, we're just got to make more plays."
The Bears' defense was a top-ten unit without Mack last year, so, logically speaking, they should manage without him. If he is unable to play Sunday, Aaron Lynch and Leonard Floyd will have to up their game significantly. Akiem Hicks will patrol the middle, but they will need more than just an interior rush to really rattle Darnold.
Allen Robinson and Eric Kush also did not practice due to injury. Robinson has nursed a groin injury the past couple weeks and while he has played through it, it has kept him from unlocking his full capabilities. The Bears are in good hands if Kush is unable to play, as James Daniels is very capable of taking over full-time if need be. Nonetheless, the injury to Robinson is something to keep an eye on. He is a top-ten receiver when at his best, and having him at full-strength would mean a lot for this offense.
Taking advantage of a flawed defense
The Jets have some impressive names on their defense, starting with defensive tackle Leonard Williams, and budding-star safety Jamal Adams. They are a team, however, prone to giving up a lot of offense.
"They're a very solid defense. Obviously, another defense that has taken away the football so that's going to be an emphasis this week, especially myself. Just continuing to take care of the football,"  -Mitch Trubisky
The Jets allow a lot of points. They have allowed 30 points or more in three of their last four games and have allowed 400 yards three times in that time frame. Despite being third in the NFL in takeaways, they have averaged 371.7 yards allowed per game, 19th in the NFL.
"I think it's just going to come down to how great a week of practice we have. And just executing our gameplan and going out there and doing it on Sunday and everyone just trusting and believing in their jobs," Trubisky added.
The Bears have been able to move the ball and score points; they have had over 450 yards of total offense and have scored 28 points or more in each of their last three games.
"I've always been impressed with Mitch," tight end Trey Burton said. "Some of the play calls can get really long. And he does a really good job of, you know, spitting them out and not making a lot of mistakes."
They can find success against the Jets, but once more, it will come down to execution. There is enough skill-talent on the offense that all Mitch Trubisky has to do is run it the way it is intended to. Hitting his throws and making the right reads could lead to another big day for the Bears' offense.
Twitter: @crbevins11 @radiomogul
Hear audio from Matt Nagy, Mitch Trubisky and Danny Trevathan: