The 2018 Chicago Bears will face the Minnesota Vikings this Sunday night in the biggest game in recent Bears history. First place in the NFC North is on the line and the Bears have a chance to separate themselves by a game and a half against the presumed division favorites.
Vikings' receiving corps vs Bears' secondary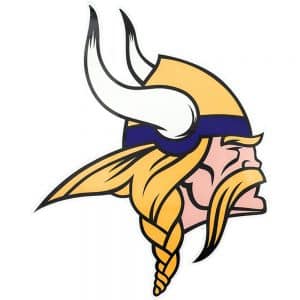 The Minnesota Vikings have a slew of pass-catchers that make them amongst the league's best, featuring Adam Thielen, Kyle Rudolph and a newly healthy Stefon Diggs. Adam Thielen is tied for the league lead in receptions, is third in receiving yards, and is tied for fifth in receiving touchdowns. Rudolph is as steady as they come, finishing top 10 amongst tight ends in each of the past two seasons. Stefon Diggs, who has had over 700 yards in every season of his career, completes their three-headed monster with. Unlike last year, they also have an solid quarterback in Kirk Cousins, who leads the league in completions and is top 10 in yards and passer rating.
"They're potent," coach Matt Nagy said. "They can score right away… Both of those receivers with Thielen and Diggs, they're just very natural receivers. They have excellent hands. Great route-runners. They understand how to beat zones. And then Kirk (Cousins) throwing the ball to them, he's been doing it for a long time. He's extremely accurate. He's tough. He finds different ways to get the ball to those guys."
The Bears, however, feature an impressive secondary that matches up well with the Vikings' group. Thielen does most of his damage from the slot, where Bryce Callahan has thrived this year. Callahan gives some height to Thielen, but that has yet to be a problem this year when guarding taller receivers. Thielen gains separation with crisp route-running more than striking athleticism, so Callahan's elite ability to remain in phase with receivers will only become more important on Sunday.
Stefon Diggs is a dynamic receiver who lines up all over the field, so he will likely see both of Kyle Fuller and Prince Amukamara. Neutralizing Thielen in the slot will give Diggs plenty of looks, as well as Kyle Rudolph at the tight end spot. The Bears' secondary is capable of stopping the Vikings' aerial assault, but it will take one of their best performances of the season to do so.
Mike Zimmer's defense
Mike Zimmer ones one of the most creative defensive schemes in the league. He loves to get exotic with his linebacker alignment and uses a lot of pre-snap window-dressing disguise his looks.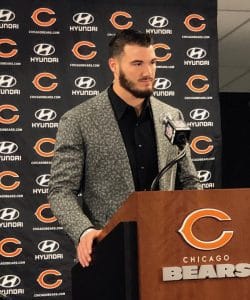 "We know we're going against a great defense this week," quarterback Mitch Trubisky said Wednesday. "Nothing comes easy against these guys, so we've got to be on top of our A-game as far as execution and just try to keep them off balance. There's going to be a lot of adjustments on the fly. They're probably going to show up and bring some new looks. And we just try to study as much as we can and we just got to get ready for a great challenge."
Mitch Trubisky has struggled at times to account for exotic looks, but that was the Trubisky of old. He has played like a new quarterback of late and seems to have enough command of the offense to adjust to what he sees. He has looked comfortable enough in the offense to hang in the pocket and deliver the right throw, but Sunday will be his biggest test on validating that.
"When you can recognize hot throws and blitzes, that's when they could slow down their blitz and they don't want to blitz you as much cause you're getting the ball out," Trubisky said. "But once they get you, they keep bringing it."
Tarik Cohen may be in for a big receiving day. The Vikings bring a lot of pressure from their linebackers, leaving little coverage out of the backfield. Additionally, for as great as Anthony Barr and Eric Kendricks are, pass coverage is not their strong suit. Getting Cohen going can open up the offense and force the Vikings' linebackers to abandon the blitz, which would give Trubisky more time to hang back and hit his receivers.
Getting to Kirk Cousins
As mentioned, Kirk Cousins adds a layer to the Vikings' offense they didn't have last year in Case Keenum. He makes more precise throws and is simply more talented than Keenum. What he lacks, however, is Keenum's ability to improvise when the line can't protect. And the offensive line has been the Vikings' Achilles heel this season.
Khalil Mack off the edge is a force against any offensive line, but with the struggles the Vikings have had at protecting the quarterback, his impact will be magnified. Leonard Floyd has had success in his career against the Vikings, totaling three sacks in the two games he has played against them. Aaron Donald had two sacks and five tackles against Minnesota. Though Akiem Hicks is no Aaron Donald, he's one of the next best things. He may be looking at a big game on Sunday.
All this put together bodes well for the Bears' defense. If the offense gets ahead early, the Vikings will be forced to look for chunk plays. That means more time in the pocket, which means more time for the pass rush.
"If there's a game where they struggled or they had points put up against them, these coaches are good coaches," Nagy pointed out. "They understand that everyone looks at everything and so, they adjust."
The Vikings' game plan will likely revolve around the short game, similar to New England and Miami's approaches. The Bears will have to take advantage of the five-step drops they do see. Taking away the pass will force Minnesota to run, something they've been unable to do. That will be compounded against a Bears defense that allows only 84 rushing yards per game, which is second in the NFL.
Follow on Twitter: @crbevins11 @radiomogul
Hear audio from Matt Nagy, Mitch Trubisky and Charles Leno Jr.: