The first place Chicago Bears will take on the Detroit Lions in a match-up between first-time head coaches Matt Nagy and Matt Patricia. The Bears and Lions are entering big points in the season, and they will face each other again in two weeks. For now, however, the Bears have a job to do, and that's to get a win to kick off their three-game slate of divisional foes.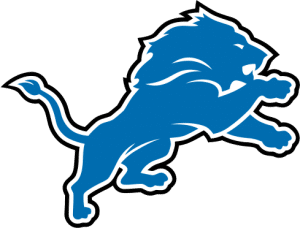 A critical juncture for both teams
It's redundant to say a specific game is important in the NFL because every game matters. But Sunday's game is extra important for both teams. For the Lions, losing on Sunday could put them in a 3-6 hole they can't get out of. A Bears win would move them to 6-3, keep them in first place, and give them at least one win in their three-game stretch of divisional play.
"We got three big divisional opponents coming up," quarterback Mitch Trubisky said, "and we kind of know where we're at as a team and I think these next three games will tell a lot about who we are and where we're headed. But we got to take it one at a time. So we're just focused on Detroit this week."
Only four teams have started 3-6 and made the playoffs since 1990. Combine that with how competitive the rest of the NFC North is, and this game is a must-win for the Lions. They traded for Damon Harrison, one of the league's best run defenders, at the trade deadline, indicating they may be looking to compete right away. They then traded away their best receiver in Golden Tate, sending the message that they are looking towards the future. They gave up ten sacks against the Vikings in their last game, and the last two weeks may be indicative of the wheels coming off.
The Bears, on the other hand, are riding a wave of success. Their 5-3 record puts them atop the NFC North, and their offense seems to have set into a groove, accumulating over 390 total yards in three of their last four games. They just walloped the Buffalo Bills 41-9 and did so without two of their best players, Allen Robinson II and Khalil Mack. Divisional games matter more for standings, and a win against the Lions could end up being crucial to their standing in the division come the end of the year.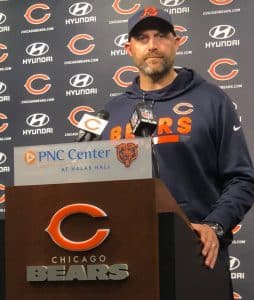 Back to health
The Bears weathered the injuries to Mack and Robinson the last two weeks, winning both games without them. They appear ready to play Sunday and look to have an immediate impact.
The Bears looked noticeably different without Allen Robinson. His absence meant they were without a big-bodied receiver who could out-muscle defenders and win contested catches to make tight windows not so tight. The next two receiver options, Taylor Gabriel and Anthony Miller, don't provide that element to the extent of Robinson. His added layer will be important against a secondary that features such ball-hawks as Darius Slay and Glover Quinn.
"Feeling great. Definitely anxious to get back out there," Robinson stated.
"He's a leader in that wide receiver room," coach Matt Nagy noted. "Our guys feel that. They know that. He leads by example. He's not a real vocal guy when he doesn't have to be. So I think it's more of just comforting for everybody, you know, coaches included, just to get him out there and see where he's at."
As for Khalil Mack, what needs to be said? Their defense was excellent in his absence, and they now pin one of the league's best pass-rushers against an offensive line that just allowed ten sacks. It is not a guarantee Mack will play, but he is ready if he gets the OK.
"He's not where he needs to be or wants to be," defensive coordinator Vic Fangio admitted. "But he's certainly prepared enough to go out there and play, if his ankle will let him." Fangio postulated that the ten sacks might have been an aberration, but his defense is capable of matching that.
Matthew Stafford getting into a rhythm is a danger no team wants to face, and the best way to prevent that is pressure. Pressure pressure pressure. Mack and the rest of the Bears' defense can be a menace against the Lions, and if they are able to, it will be a major step in taking down the Lions.
Dominating with defense
The Lions allowing ten sacks to the Vikings demonstrates their struggles with athletic interior defensive linemen. The Bears have plenty of beef up front with Akiem Hicks and Eddie Goldman, but they move well for their sizes of 6'5″ 324 pounds and 6'4″ 320 pounds, respectively. Danielle Hunter had 3.5 sacks coming off the edge last week for the Vikings. If that is an indicator of the overall ability of the Lions' offensive tackles, Khalil Mack could be in for a big day if he is able to play.
"They're a very similar offense to what they've been in the past," Fangio said of the Lions. " [Stafford] still slings the ball pretty damn good. You know, he can throw it both from a release standpoint, different platforms, accuracy, arm strength, as good as damn near anybody in the league. And I still see that."
Kyle Fuller, tied for the NFL lead in interceptions, has emerged as a star on the Bears' defense this year. The same goes for Eddie Jackson, who has taken a major step in year two of his career. Stafford has taken care of the ball this year, but he is not immune to multiple turnover games. He has one this year that came during week one against the New York Jets in which he threw four picks. The Bears have 23 takeaways this season, the second-most in the NFL. Maintaining their opportunistic ways can help them a great deal against the Lions.
Twitter: @crbevins11 @radiomogul
Hear audio from Matt Nagy, Vic Fangio and Allen Robinson