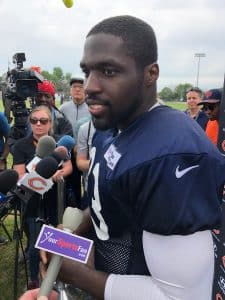 As the 2018 Chicago Bears gear up to play the Baltimore Ravens in Thursday night's Hall of Fame game, the talk Tuesday at training camp wasn't as much about the game, as it was about holdout draft pick Roquon Smith. Smith, the last of the first round picks to sign, appears to be at odds with the team over language in the contract about the new helmet rule, among other things.
Teammate Sam Acho, the team's player rep noted, "I actually looked through a lot of the contracts that rookies are getting. First round picks are mostly fully guaranteed, so that's exciting for me as a rep, seeing players getting guaranteed money " Although he hasn't spoken to Smith lately, Acho added, "I'm going to let him use this time to let him do his thing, and figure out what he needs to figure out. But he can take his time. I got his back."
Acho also echoed the excitement about the new coaching staff voiced by many players. "It's a different dynamic this year. A different mind set, a different focus. We feel it." He added, "  Coach Nagy has this aura about him. He has this contagious belief. He doesn't let anything slide, He is strict, but he is loving. Like a good dad."
Coach Matt Nagy did focus on the extra preseason game ahead. "Everyone is ready for a new challenge. The benefit is it gives you more reps for the players. The negative is there are health risks. People can get hurt. So there's a fine balance of both of those, and understanding which way you want to go. Right now I feel good about our plan as a coaching staff and who we want to play and who we don't want to play."  Nagy stressed how the game was really about player evaluations, "This is about the players," he stated, "and letting them play, so they can show off their talent, so we know who we want to keep and don't want to keep."
The only remaining coach from John Fox's staff, Vic Fangio discussed his strategy for the preseason. "For me, the preseason and training camp is all about preparing your team for the season, and part of preparing your team for the season is make sure you pick the right fifty-three guys.  So we're heavy into evaluation in this game. More so than evaluating schemes. So we want to see these guys play. See how they do, then repeat that the next week."
There were also questions to the players about the new anthem rules and what the players would do. They stated it would be a team vote and that they had the support of the staff and ownership.
We'll see come Thursday evening.
Hear Matt Nagy, Sam Acho, and Vic Fangio selected audio comments: