Day two of Big Ten Media Days got underway in Chicago, featuring both the hunters and hunted of the Big Ten. After another day of interviews, plenty was left to unpack in regards to the upcoming season.
Iowa
Iowa football is synonymous with old-school, smashmouth football. Kirk Ferentz, approaching his Iowa school record 144th win, will have to continue that track record without Josh Jackson, James Daniels, Josey Jewell or Akrum Wadley, all of whom are in or beginning NFL training camp. After losing four linebackers, the Hawkeyes will rely on a deep defensive line to pick up the slack at the second level, and Nate Stanley is ready to take a step at quarterback behind an experienced offensive line. However, without a true go-to back, Iowa's offense could look much different than it has in the past. Ferentz acknowledged this fact, saying "We're obviously lacking experience at running back." Iowa will be solid, but with so much star-power heading out the door, it's tough to imagine them dethroning Wisconsin as the West's top dog.
Indiana
Leading a football program at a school more associated with basketball, Tom Allen enters his second season as Indiana's full-time coach. "My vision has not changed," he said Tuesday. "I want the Hoosiers to break through." Step one of that breakthrough will be deciding on a quarterback, which remains anyone's game to this point. Allen did a tremendous job at turning a Hoosiers defense that was a liability into a strength, but he now has to plug many holes that were opened by departures of three defensive linemen and two linebackers. They mostly return a secondary that was last in the Big Ten in turnovers a year ago, but Allen has shown an ability to get the best out of his defense. With most of the offense returning, finding a capable quarterback may be all Indiana needs to make a bowl game.
Michigan State
Coming off a bounce-back year for the Spartans, Mark Dantonio has a chance to improve even further with a veteran group that returns 10 on offense and nine on defense. Michigan State's best teams thrived with a strong quarterback-running back tandem (Kirk Cousins and Le'Veon Bell, Connor Cook and Jeremy Langford), and this year presents a similar situation with Brian Lewerke and L.J. Scott. They have one of the best receivers in the Big Ten in Felton Davis III, and the defense loses very little production-wise, bringing back one of the nation's top corners in Josia Scott. Michigan State has a chance to be real players in the East this year, and if Lewerke can improve even further, Michigan State may find themselves in Indy come December.
Illinois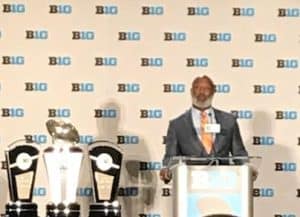 Illinois football has been utterly dormant in recent years, and in 2017, started a whopping 16 true freshmen. Led by former Chicago Bears head coach Lovie Smith, Illinois will have to hope that their young crop develops into a formidable player in the Big Ten. The quarterback competition is up for grabs, and with such little proof of talent, Illinois may end up with a revolving door under center as they try to feel out the position. Lovie Smith's third year as Illinois's head coach will probably be another year in the Big Ten's basement, but maybe down the road, some noticeable improvement may occur (maybe).
Wisconsin
Paul Chryst's Badgers are in another great position for a Big Ten title run. After a perfect regular season in 2017, Wisconsin returns a ton of talent, including Jonathan Taylor–third in the nation yards in rushing yards as a true freshman in 2017. Alex Hornibrook is a less than inspiring quarterback, but behind an offensive line that returns four starters, he can be a game manager and find success playing off the threat of Taylor. Additionally, they will be stout defensively and return one of the nation's best safeties in D'Kota Dixon to lead a young secondary. Wisconsin should be the favorite to win the East.
Ohio State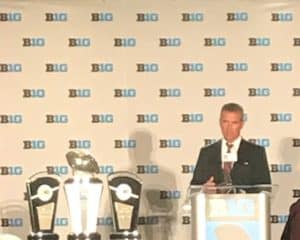 The J.T. Barrett era has officially ended in Columbus and now begins the Dwayne Haskins era. After an impressive but brief performance against Michigan, the former four-star recruit has generated plenty of buzz as the next in line to lead the Buckeyes back to the promised land. Though they lose a lot on both sides of the ball, their tandem of Haskins and J.K. Dobbins should put fear in the hearts of defenses throughout the conference, and the return of much of its receiving corps' production will only add to that. Defensively, the Buckeyes should be one of the best in the country with Nick Bosa and Dre'Mont Jones up front. They've shown to have no difficulty replacing elite cornerbacks, and after Denzel Ward left for the NFL draft, Damon Arnette figures to be next in line. The Big Ten is by no means set, but Ohio State is absolutely good enough to win the conference and capture another playoff birth.
Maryland
Now one year dismissed from a decimation to their quarterback depth chart, Maryland enters 2018 with optimism around year two of D.J. Durkin's tenure. The Terrapins appear to be solid all around, with a talented running back and reliable front seven that can anchor the team. The health of their quarterbacks will be the deciding factor of this season. While their signal-callers are capable, their health will ultimately decide how this season plays out.
Twitter: @crbevins11
Hear audio from Kirk Ferentz, Tom Allen, Mark Dantonio, Paul Chryst and Urban Meyer