The annual Big Ten Media Days took place in Chicago this week, and accompanying it came many storylines. With the first day in the books, it's time to take a look at the teams who met with the press from day one of this year's gathering.
Nebraska
New head coach Scott Frost has made it his mission to resurrect Nebraska's legacy, saying, "The parents all remember Nebraska as Nebraska. A lot of the kids don't. It's our job to change that. It's our job to make sure the new generation remembers Nebraska for what it is and what it should be."

Frost will benefit from a good deal of returning offensive production, but a quarterback will need to be established for Nebraska to truly thrive. With Tanner Lee gone, the position is up for grabs, and if Frost finds "the guy" to run his offense, Nebraska could be scary next year.
Nebraska's non-conference schedule should be a cake walk, and their conference schedule is manageable. A bowl appearance is by no means out of the question, and if they can quickly adapt to Frost's new system, a top three finish in the Big Ten East is certainly in play.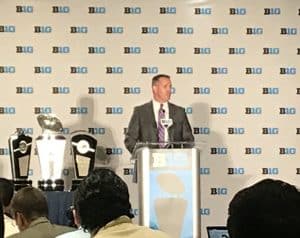 Northwestern
Pat Fitzgerald has established himself as a dependable head coach in the Big Ten, navigating his alma mater from conference bottom-feeders to a consistently respectable program. While the Wildcats don't return much star power, they bring back a lot of reliable starters, including quarterback Clayton Thorson. They should also be sound defensively, especially up front where they are anchored by freshman All-American Joe Gaziano.
Fitzgerald mentioned that he feels the Big Ten West is "as competitive as anywhere in the country." As the West builds up, so has Northwestern, and their chance to play in Indianapolis is as good as anyone in the West besides Wisconsin.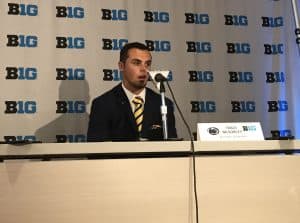 Penn State
Penn State has lost a great deal of star-talent, but none more important than Saquon Barkley. Luckily for Penn State, they return Heisman hopeful Trace McSorley. With promoted offensive coordinator Ricky Rahne, McSorley is ready to take command and be
the focal point of this offense for the first time since strapping up the navy and white. While there's no replacing Saquon Barkley, former five-star recruit Miles Sanders will look to pick up some of the slack behind a line that returns all but one starter. The offense shouldn't look much different schematically, according to McSorley. "The biggest difference is the faces," he said. "You got through practice three of four, now you're used to looking out and seeing DeAndre [Thompkins] or Nick [Scott] out at safety." If the Nittany Lions can maintain defensive success, they will be in position for a Big Ten championship.
Purdue
Purdue, typically on the bottom rung of the Big Ten ladder, seems to finally have a reason for optimism after a seven-win 2017, thanks in large part to head coach Jeff Brohm. There is strong competition at quarterback, but both redshirt sophomore Elijah Sindelar and redshirt senior David Blough have proven to be capable starters. There are, however, big questions on defense, which returns only four starters from last season. After a good season a year ago, it's hard to envision Purdue repeating the same level of play defensively, but with a young group and Brohm at the helm, they could get back in the mix of things in a couple years.
Minnesota
Minnesota football has a reason for optimism and his name is P.J. Fleck. Fleck, who famously "rowed the boat" with Western Michigan to 13-0 record, will be tasked with reviving a program that hasn't been a national threat since the 1960s. As of now, there isn't a firm decision at quarterback, as no one in the room has thrown a pass for Minnesota, but running back Rodney Smith and wide receiver Tyler Johnson can take some pressure off of whoever is the signal-caller. Things may get tough for Minnesota without a true quarterback, but as Fleck mentioned, Minnesota just collected one of its best recruiting classes in school history and currently has a top-25 class for 2019.
Rutgers
Things have not been easy for Rutgers in recent years, but brighter days may finally be ahead with head coach Chris Ash. The defense should be its typical solid self with a lot of production returning, but what has eluded them most may finally have arrived in New Jersey. True freshman Artur Sitkowski showed promise in spring like no quarterback in recent Rutgers history has. The IMG Academy product has plenty of hype surrounding him, and many think he will get the nod, but Ash has not named a starter yet. This year may be a little early to put Rutgers in serious Big Ten contention, but further development from Sitkowski may be enough to bring return them back to relevance.
Michigan
With a 1-5 record against Michigan rivals Ohio State and Michigan State, Jim Harbaugh's career at Michigan has not gone as planned. Brought in to be the savior of Michigan football, Harbaugh has failed to reach anything higher than an Orange Bowl loss to Florida. With more criticism coming his way, however, Jim Harbaugh has a very talented roster he should be able to win with. The difference between this one and ones in years' past? Quarterback Shea Patterson. The former five-star recruit transferred from Ole Miss and was granted immediate eligibility to play at Michigan, finally giving Harbaugh a quarterback he's so desperately needed. While there are big questions along the offensive line, particularly at the tackle spots, Donovan Peoples-Jones can be a game-breaking receiver, especially now paired with Patterson. Harbaugh will roll into 2018 with, once again, a very talented defense that returns five All-Big Ten players. If the Wolverines can find consistency on the offensive side of the ball, there should be no reason they can't compete with the likes of Penn State and Ohio State for the Big Ten East.
Twitter: @crbevins11
Hear audio from Scott Frost, Pat Fitzgerald, Jim Harbaugh and Trace McSorley: