The 2018 Chicago Bears came to San Francisco with little on the line and still escaped with a victory over the 49ers. Chicago now comes to Minnesota to face the Vikings, struggling for their playoff lives, with the two seed still in play.
It may not have always been pretty. Poor execution hit the Bears a few times, including an early turnover on Mitch Trubisky's lateral to Tarik Cohen and Allen Robinson's late fumble that opened the door for a 49ers comeback.
Their miscues proved to not be costly, however, as the defense continuously prevented any momentum from swinging in the 49ers' favor. Akiem Hicks was a wrecking ball, batting down three passes while Roquan Smith continued his standout rookie season with nine more tackles and a sack. A late interception from Danny Trevathan essentially sealed it, and the Bears' defense once again proved it is a unit to be leaned on.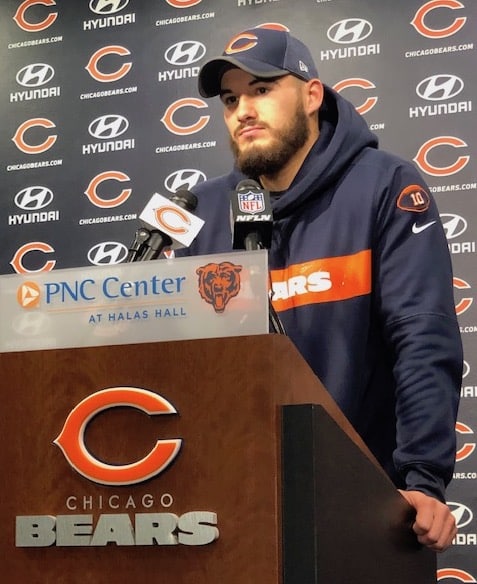 "Because we've been in this situation so many times and have come up big, it's almost expected of us," CB Prince Amukamara said. "Like when we had to go back on the field to help win it for our team. Everyone was poised and no one was shaking. We expected great things to come out of it and we're glad we stood up for our team."
This is not to say the offense performed poorly, however. Trubisky worked efficiently in the short game and on run-pass-options, but he also delivered some remarkable throws downfield. The one everyone will remember was his deep connection to Robinson in the early goings, but he fired two beautiful balls on extended plays with his feet, one along the sideline to Taquan Mizzell and another on a throw across his body to Ben Braunecker.
The deep plays mostly ceased in the second half, replaced in favor of the short game. Matt Nagy increased the number of screens, hitches and RPOs in the second half in an effort to salt the game away. Trubisky rarely missed, completing 25 of 29 attempts on the afternoon, and finished with 246 yards and a touchdown.
"It was just finding rhythm in the offense, taking what the defense was giving us," Trubisky said. "It came down to we had to dink and dunk a little bit just to move the ball down the field. They're bailing out, playing zones. They wanted to take away the deep ball and the explosive plays and they did a good job of that. So, we knew they were a tough defense and we just had to spread them out, dink and dunk. Take what they gave us. Create a rhythm first and second down, stay out of third down and get the run game going a little bit."
"Any time you throw a lot of completions in this game, you give yourself a chance to win because you stay ahead of the sticks and you don't get into third-and-long situations," Nagy added. "He did that. I don't know his exact numbers but, in the game, it felt like he had a bunch of completions in a row. When you do that in this league, good things happen."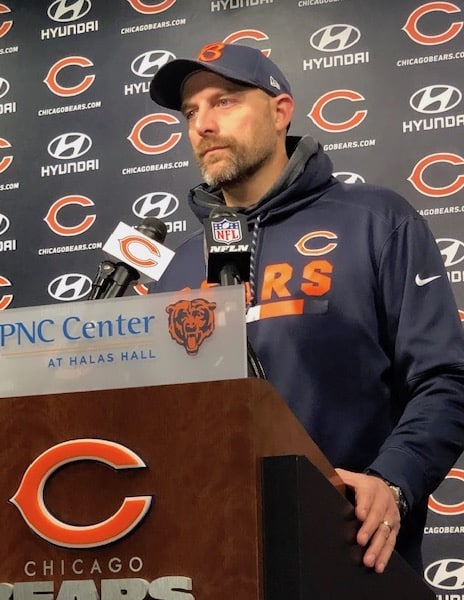 The Vikings' defense got to Trubisky in week 11 and limited him to only 165 yards and two interceptions. Minnesota's defense, though shaky at points this year, has recently found a stride of consistency, allowing less than 275 yards of total offense in each of their last three games. Danielle Hunter's 14.5 sacks this season place him in an elite company of pass-rushers, and coach Mike Zimmer, now with a game of film on Nagy's offense against his defense, will surely have something in the works to keep Trubisky off balance.
Their offense has also found its groove lately, following the firing of OC John DeFilippo. Their ground game, in particular, has found its footing, accumulating 220 yards two weeks ago and 100 last week. A solid run game is nothing new to the Bears, though, who have allowed only 1,217 yards on the season, second in the NFL behind only the Saints.
Kirk Cousins was a mess the last time these teams played, finishing with a state line of 30 for 46 for 262 yards, two touchdowns and two interceptions. The Bears' pass-rush proved too much for the opposition again as they sacked him twice. The Vikings' offensive line has not gotten any better, allowing two sacks in each game since. The short game will be a big part of Minnesota's game plan for that reason, so second-level players will have to make tackles in space and prevent another big YAC (yards after catch) game from Stefon Diggs, who had 126 yards Week 11.
As mentioned, the two-seed is still up for grabs. It would take a Rams' loss to make it happen, but the 49ers have given them challenges in the past. Their game kicks off at the same time as the Bears, so Nagy won't have the benefit of a known outcome. For that reason, he will play his starters Sunday.
"We'll have a plan and process to get an idea of what we need to do," Nagy said. "But that's, again, where it gets real easy is that when you just and you just play your guys to win. To me, it would have to be something that's, you know, somebody comes to me and says 'Hey listen it's a complete blowout,' or something. And then you still have decisions to make as well.
"So, we're going there to win the game. Regardless of who is in the game, we're going (there) to win the game and so none of that's going to change for any of the players, any of the coaches."
The Bears can deliver the kill-shot on the Vikings' season on Sunday. There will likely be no Eddie Jackson heroics as he continues to heal his ankle. A sound game on both sides of the ball should be enough against a Vikings' team that has played so sporadically through the season.
Follow on Twitter: @crbevins11 @radiomogul