The newly crowned 2018 NFC North Champion Chicago Bears will be in San Francisco this week to face the 49ers. The 49ers carry with them unfamiliar momentum, having won their past two games. The Bears will play for seeding this week, with a first-round bye still very much in play after the Rams loss to the Eagles. A win over the 49ers could end up as the deciding factor between the two seed and the three seed.
Controlling Kittle
The 2017 Draft, the year where John Lynch was thought to have fleeced Ryan Pace, has yielded poor results two years later. If there is a diamond to be found in the rough, however, it has been tight end George Kittle. Kittle, who served a mostly limited role last year, has blossomed in his sophomore campaign, being selected to his first Pro Bowl after hauling in 72 receptions for 1,154 yards. He moves exceptionally well for a player his size (6'4, 250 pounds) and has become the go-to option for 49ers quarterback Nick Mullens.
"I think they do a good job, and Kyle [Shanahan] in particular, of understanding how teams are playing certain coverages," defensive coordinator Vic Fangio said. "And maybe where the weaknesses are or where they can pop a guy free. And they've been able to do that here lately, more than a few times."
One of Kittle's biggest advantages over competition is the guy calling his plays. Head coach Kyle Shanahan has kept his offense steady (13th in yards) despite the absence of Jimmy Garoppolo. He throws a heavy dose of play-action at opposing defenses, giving his receivers an extra step against hesitant defenders preoccupied with the run. Kittle is one of the biggest beneficiaries of this, and he has taken full advantage of it this season
"It's a very good offense from a scheme standpoint," Vic Fangio said. "(Shanahan) does a good job of calling the game. They marry their run game and their passing game together very well. Even if they were to put in a new play, new running play, they're going to have some form of play-action pass off of it."
Discipline will be of the upmost importance against play-action. The Broncos failed in that regard, and it resulted in 210 yards for Kittle. The Bears had no issue keeping everything in front of them against the Rams, a team even more reliant on play-action. They will slow down the 49ers' offense if they are able to repeat that discipline.
Possible air-show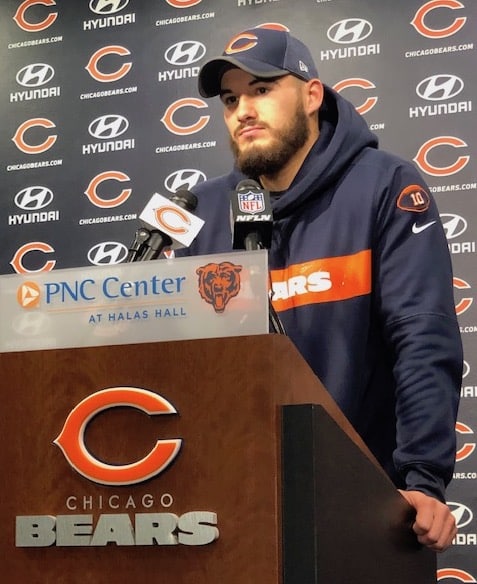 While the 49ers have a young defensive line that features DeForest Buckner, their secondary leaves an awful lot to be desired, even with the addition of Richard Sherman. Though they have performed respectably against the past (13th in yards allowed), the defense has failed to take the ball away, ranking dead last in the NFL with only two interceptions.
Taking care of the football is always a priority, but the 49ers' inability to take the football away will allow room to be more aggressive and throw the ball into tighter windows. The playbook will likely open up more and we could see coach Matt Nagy at his most creative.
"I think just as far as, you know, an offensive stand point, there's still things we want to get accomplished," WR Allen Robinson said. "You know, and continue to try to build this momentum, you know, going into the playoffs."
We've seen what Trubisky can do against defenses that struggle to force turnovers; His two best games came against the Lions and Buccaneers, who are 30th and 24th in interceptions, respectively. He is at his best when playing loose and not concerned about interceptions, and he can very well play like that on Sunday.
Staying focused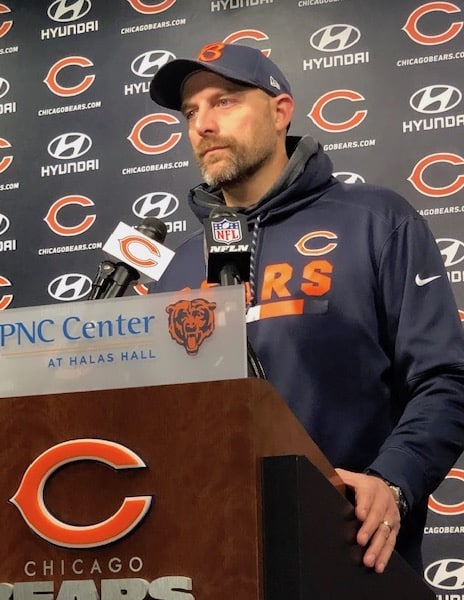 The Bears have clinched the NFC North and come off a great win over their rival, so the 49ers may be looked at as a letdown spot. The season is not over, and as Nagy put it, resting starters "is not even in the world of consideration for us. We're trying to win."
He added Thursday, "I think that's what separates the good teams from the great teams is they know how to focus each week and not make any game more significant than the other. And that's where we're at right now.
"I've been fortunate enough to be on other teams where we've won division championships," he said Wednesday. "And it's nice. It's important because, you know, it gives you advantages. It gives you a home game in the playoffs… But you can't be satisfied. And that's who our guys are."
The Bears have the edge over the 49ers across the board. San Francisco is simply a lesser team than the Bears and their already precarious situation was worsened with the injury to Jimmy Garoppolo and eventual insertion of Nick Mullens. Their offensive line is 7th in sacks allowed and their receiving corps is average at best. Mullens is young and limited, and the degree of separation between the 49ers' offense and Bears' defense is too big for even Kyle Shanahan to overcome. The 49ers can only win this if the Bears make preventable mistakes. Avoid those errors, and this will turn into a warmup for the playoffs.
Follow on Twitter: @crbevins11 @radiomogul
Hear audio from Matt Nagy, Vic Fangio, Allen Robinson and Roquan Smith