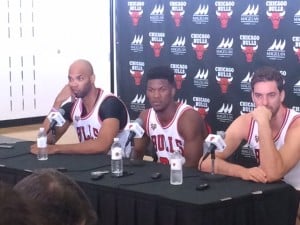 As the Bulls hear into a new season, they truly are looking for a "fresh start." With the hiring of a new coach in Fred Hoiberg and the return of healthier versions of Taj Gibson, Derrick Rose (in a couple weeks), and Joakim Noah, the club hopes to forget their playoff woes brought to them from that team from Ohio.
Below, I have listed the comprehensive total of story lines to watch as this season progresses before the Bulls enter preseason action.
The (yet again) injured DRose
Granted, this is supposed to resolve itself fairly quickly, as Hoiberg and the Bulls hope to have him for the season opener on the 27th at home when they host the Cavs, but a fractured orbital bone in the first practice this year is something that could only happen to Derrick Rose.  The unfortunate reality is that due to Derrick's laundry list of unfortunate injuries, he has played just over a hundred games since his MVP season, five years ago.  Thus, fans, with an attitude of "what have you done for me lately," are growing tired, justly or otherwise of not seeing their marquee player on the floor.  This season will be very telling (as the last one was supposed to be) as to whether or not Derick Rose is a child of misfortune or truly has the power to ascend to a player who go leaps and bounds for his team and bring them to the top.
The Derrick Rose off-court scandal
This is something to follow but there is little information.  It was alleged that Derrick Rose took part in sexually assaulting a former girlfriend.  The accusations and allegations were made in a very delayed fashion, two years following the supposed incident.  Derrick Rose seems positive he will be proven innocent and the organization stands behind him fully, with Gar Forman calling him "family."
Mike Dunleavy coming back from back surgery (and how Doug McDermott fits)
Adamantly stating that he would not be returning prior to be fully healed, regardless of the 8-10 week timeline provided.  The consistent and fundamentally sound veteran are bigger shoes to fill than people often realize, as was proven during his first significant injury last season, when he missed good amounts of time with ankle problems. Doug McDermott and Nikola Mirotic will likely pick up the minutes left behind by Dunleavy, and Hoiberg indicated that the preseason would be a trial run for figuring out lineups.  He said, referring to McDermott, "he'll get a lot of time, especially with mike out, early in this preseason to play with this first group a lot."  This should quell fans last year who were begging for Doug to see more floor time, despite Tom Thibodeau's aversion to giving rookies decent tick.  Speaking of old Tom…
Whether or not Hoiberg's skill set really does "translate to the NBA"
Hoiberg is in many ways, the antithesis to Tom Thibodeau.  He is a youthful, spry young man who if offensively minded, despite his claim that the team has "worked more on defensive than on offense" so far.  He praises the versatility and flexibility in the offense, something that every coach longs for, but Hoiberg hopes to do more with the roster.  Derrick Rose called him "more relaxed," and cited that such a quality should  not be taken for granted by himself and his teammates moving forward.  It will be interesting to see where Hoiberg's flexibility starts and stops, and whether or not he can use it effectively or if, in the long-run, it will be what fans will cite in calling for his head  in 4 years after not winning a championship.
Are Taj and Noah back to being Taj and Noah?
These two guys were something else two years ago while Derrick Rose was rehabbing for the second season.  Noah got MVP votes, religiously dropped double-doubles, and even a couple triple-doubles along the way.  Taj was a sixth-man of the year candidate.  And boom, they got bounced by the Wizards round one in the playoffs.  Can these two, after rough seasons in 2014/2015, come back and be the forceful tandem of old, despite contributing, talented additions like Nikola Mirotic, Pau Gasol, and Bobby Portis? If they can, holy cow, watch out, this is the most stacked and deep team in the NBA.  If they can't, there might be some serious changing of the guard here.
Jimmy G Buckets-who will he be?
The 2014/2015 all-star is the new golden boy in town.  Which is probably why there were rumors of the older, golder, boy, Derrick Rose, and Jimmy Butler bumping elbows a little bit towards the end of the season last year.  Jimmy's growth into a player on both sides of the floor made him the next man up, everywhere it seemed, last season, so some fans decided that he should be looked to instead of Rose in tough times, simply because he was there more often.  The navigation of such waters are tedious and should be done with care to hurt no one's potential or mentality throughout the season, as the team already has enough physical injury to worry about, and isn't needing relational or mental injury in addition.  To be sure, Butler is expected to be good, really good.  When asked about his off-season work, Butler stated that he is working especially hard on defense, "to be honest."
Where does Nikola fit? Into the lineup and into the plans of the future?
He is perfect for who Fred Hoiberg is supposed to be as a coach and what he is supposed to run.  Though he clearly needs to work on the defensive side of the ball, Niko was electrifying to watch last year, going off in the second half of the season and garnering some rookie of the year votes.  The question again becomes, a good for Hoiberg to deal with, where the hell are he, and all the rest of these really good players going to find minutes?  The good news is, for all those upset about Thibodeau's unwillingness to utilize the practice of preventative maintenance and rest, Hoiberg has the depth to do it.  Furthermore, if any injuries, significant, or otherwise, arrive, he should also have sufficient reinforcements, at least on paper, to get it done.  Niko's best asset, according to Hoiberg is his versatility, and thus one can safely assume that Hoiberg will attempt in this preseason and subsequently, to use Niko in a variety of situations and positions according to the needs just listed.  Most Bulls fans though, wanting their cake and to eat it too, would likely want to see Niko playing a more significant role going forward.
Pau- Older and Golder?
Pau Gasol had one of his best regular seasons ever last year, both according to the eye test and the stat sheet. In his sage wisdom though, he is reserving judgement on Hoiberg, simply stating that they are "all good right now."  As Pau enters the 35 mark though, fans eyes will pay close attention to whether or not Pau has still got it.
Hinrich retirement?
We all know Kirk was Thibs's guy, even when he looked….very not-great last year.  Moving forward, a big question will be as to how many good years the veteran, beloved-Bull has left.
Bobby Portis and Cristiano Felicio
The development of these two rookie forwards under the run-n-gun Hoiberg will be a good story line to watch, as no one has really seen Hoiberg develop players at the professional level yet.  The stacking of big men as well could also signify changing of the guard or potential trade bait to lottery hungry teams down the road.