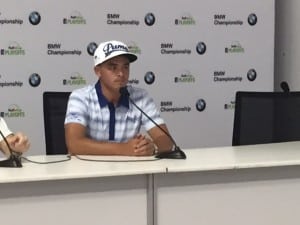 Baseball has its playoffs approaching, NASCAR has the Sprint Cup Series, and golf, not to be outdone, has the FedEx Cup Championship. This series of events has the top 125 tour players vying for a $67 million in prize and bonus money to crown a tour champion.
The playoffs feature a progressive cut, beginning with The Barclays in the New York/New Jersey, continuing with the Deutsche Bank Championship in Boston (100 players) and this week, the BMW Championship in Chicago featuring the remaining 70 players. Afterwards, a reseed takes place, seeding the top-30 players for the culminating Tour Championship by Coca-Cola in Atlanta, where the FedExCup Champion is determined.
The top three players in the standings are PGA Championship winner Jason Day, US Open and Masters Champ Jordan Speith, and Rickie Fowler, who had six top ten finishes this season, including a win at the Deutsche Bank event.
Those three will be teeing off in the same group at Conway Farms Golf Club in Lake Forest, Illinois on Thursday's day one of the 2015  BMW Championship. Speith is looking forward to the pairing, "It's going to be a lot of fun. [I'm] happy to see Rickie come in. It's not a bad place to be playing with these guys week in and week out." He added, "I played with Jason when we played Conway last time. Not that it means that much, but I'm obviously comfortable playing with Jason now that we've played so much within the last couple of months, and bringing Rickie in will just add another element.
Fowler echoed those sentiments, "We're going to have a blast the next two days. The three of us really enjoy playing together." He continued, " It would be fun if we can kind of build some momentum and get the three of us playing well out there."
When asked about the course, Fowler noted, "It's really not a long course by any means (Par 71, 7198 yards). There are some holes where I'm hitting irons off the tee, more so on the front nine. The back nine is a little bit more of a driver side. But yeah, it still favors some length off the tee, but it favors more being in the short grass. There's a premium in hitting the fairways here. If you don't many fairways, you're going to struggle to have a chance to be in contention."
Phil Mickelson looks forward to the challenging course.  "It's wonderful. It's in great shape. We had a great day today. I think it's going to be a great site for the event. It's a great test."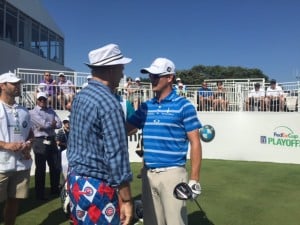 On Wednesday the players participated in the Pro-Am, which paired them with amateurs who ponied big bucks for a chance to have a round with the real golfers.  Bill Murray and brother Brian Doyle Murray, who are being inducted into the caddie Hall of Fame, were among the amateurs.
Bill, always the jokester, was asked about the course. "It's a beautiful day. The greens are perfect. The rough is much harder than it looks from outer space, and the crowds were well behaved." He was also asked about his late friend Harold Ramis, and talked about his hometown Cubs.
Murray's comments:
Former Chicago Bear Brian Urlacher, teamed with Henrik Stenson, appreciates someone at the top of his game in another sport. "Playing with these guys is fun because they hit the ball so far," he notes,  "and to see the shots they can pull off. Every part of their game is good.  I know how hard this game is. To watch them hit every shot where they want to is amazing." He even commented on the Bears' loss Sunday to the rival Packers.
Urlacher's thoughts
The forecast calls for warm temperatures and wind gusts on Thursday, then a chance of rain on Friday, while cooler temperatures are expected on Saturday and Sunday.
All net proceeds from the 2015 BMW Championships benefit the Evans Scholars Foundation, which grants full university tuition and housing to hardworking young caddies. The event has raised nearly $20 million since 2007.