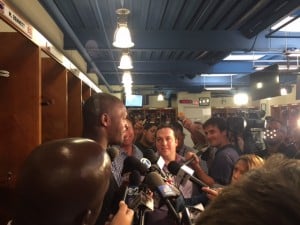 on the Weekend Sports Report with Packer Dave and Steve Leventhal
…Fred Mitchell from the Chicago Tribune joins us with a 2015 Bears Packers preview.  Also Jeff Rich and Dave discuss the key games in the NFL's opening weekend.  Plus, John Poulter and Steve look at the Yankees- Blue Jays series and the key MLB races, as well as the USA MNT loss to Brazil.
Hear audio from Mike McCarthy, Eddie Lacy, John Fox, and Martellus Bennett on the Bear-Packer game Sunday.
Don't miss a cameo from Hall of Famer Len Dawson.
Podcast: Play in new window | Download