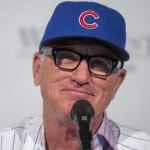 on the Weekend Sports Report with Packer Dave and Steve Leventhal
…an exciting week in Chicago sports, as the Chicago Cubs vanquish their nemesis, the St. Louis Cardinals, and Toronto comes back from an 0-2 deficit to overtake the Rangers.  John Poulter joins us with 2015 ALCS and NLCS previews, as well as a brief look at what's upcoming in the English Premier League.  Dave, Jeff Rich, and Steve look at Week 6 in the NFL, featuring the Bears at Lions, Chargers at Packers, and other key games. Also a peek at some of the big contests in College Football.
Hear comments from John Fox, Martellus Bennett, Mike McCarthy, Aaron Rogers, Matthew Stafford, Calvin Johnson, Antonio Gates, and Phillip Rivers.
Don't miss a cameo from Jeff Foxworthy.
Podcast: Play in new window | Download