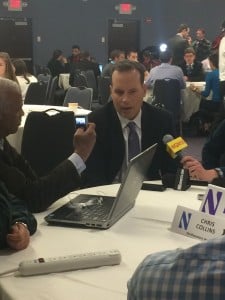 The rhetoric from all fourteen coaches appeared scripted and predictable as they spoke about the upcoming Big Ten basketball season. Rainbows and lollypops are in the minds of all the coaches, from the reigning Big Ten champ, John Beilein of Michigan, to the lowly Purdue Boilermakers and coach Matt Painter. Every team expects to take "the next step" and are smitten with their new recruits that have signed in the offseason. If it was only that simple, the bottom 5 of the 2013-14 season (ILL, IND, PSU, NW and PUR) are predicted to finish in the bottom half of the league again this year, with Maryland and Rutgers also in the mix to bring up the rear.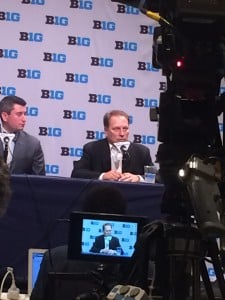 The overlying theme of today's press conferences was the expansion of the Big Ten and how it affects the conference schedule. "If you don't play everybody and you get one of those breaks with the top four teams you play once and the bottom four teams you play twice, there's going to be a big difference in your win-loss record probably, especially in basketball where home and away seems to have such an impact," Michigan State Coach Tom Izzo stated during his time with the media. Coach Izzo was one of the first coaches to indirectly voice his displeasure with the scheduling. Wisconsin coach, Bo Ryan, agreed with Izzo in a roundabout way, asserting his wishes for more conference games during the regular season. Coach Miles from Nebraska wanted another crack at Iowa after losing to them in the first game of conference play, 67 – 57 last year. "I wish we'd play our border schools more. Last year we played Iowa the first game of the year, and then I honestly don't know that I watched them again. And if I recall right, I think they were on the other side of the bracket in the Big Ten Tournament, so I don't even think I watched much there, either. I didn't even see Franny's team play very much after they beat us. We don't like that, but I believe that that's not going to change."
In previous seasons, the Big Ten schedule had 7 double plays and only 4 single plays that were rotated every 2 years. The new league schedule will have only 5 double plays and 8 single plays each season.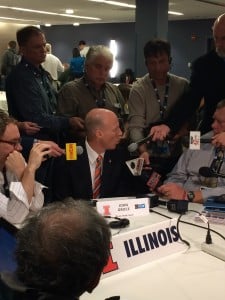 Does this mean the Big Ten schedule has been dilute or devalued?
"I don't know if it's being devalued because there's still 18 games and 18 tough ones," Maryland coach Mark Turgeon noted. "Obviously everybody plays a different schedule. It's almost impossible with so many teams to put the schedule together. I think the Big Ten did a nice job with the three-year cycle that they're going to have. It is what it is."
In layman's terms, if you draw Wisconsin, Michigan State, Ohio State or Michigan as a double play team… Make sure you beat the bottom of the barrel teams when you get the opportunity, because you will only get one game against each of them.
2014-15 Big Ten Media Day: Coaches talk about the upcoming season (Collins, Ryan, Izzo, Matta, Groce, Beilein and Jordan)
Favorite: WISCONSIN
Dark Horse: IOWA
Six Big Ten teams made the Top 25 Coaches Poll:
#4 – Wisconsin
#18 – Michigan State
#20 – Ohio State
#21 – Nebraska
#23 – Michigan
#25 – Iowa
Podcast: Play in new window | Download